Paul Cantlie, father of Islamic State hostage, dies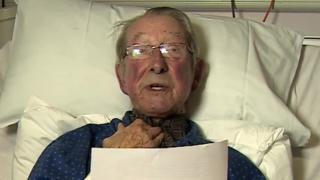 The father of a UK hostage being held by militant group Islamic State has died, his family have said.
Paul Cantlie, 80, recorded a video message from his hospital bed earlier this month, urging those holding his son, John, to release him.
A family statement said he had died from "complications following pneumonia" on 16 October.
John Cantlie, a journalist who was kidnapped in Syria in 2012, has appeared in a series of IS videos.
'Proud'
In a statement, Mr Cantlie's family said: "Paul died not knowing whether John's captors had received any of the messages he had sent to them.
"The failure of communication to date has inevitably led to a terrible sense of abandonment, particularly for John's father, with the family feeling ignored."
The statement also said the family had been urgently trying to contact John in the last few days to let him know of his father's death ahead of the news being made public.
"Many in the country will recall the recent broadcast from his [Paul's] hospital bed, when so demonstrably ill, but determined that his journalist son John should hear from his father 'how very proud I am of him'," the family said.
'Despair and helplessness'
They added that Paul Cantlie, a retired naval architect and a father of three, would be "remembered by many for his fortitude, quiet courage, wry humour and keen intelligence, as well as for his great gentleness".
Since August, IS has killed four Western hostages - US journalists James Foley and Steven Sotloff and British aid workers David Haines and Alan Henning.
The group, also known as Isis or Isil, has taken control of large areas of Syria and Iraq and declared a caliphate.
The videos of John Cantlie, who is originally from Hampshire, have all followed the same format, with the journalist sitting at a desk against a black backdrop to address the camera.
There are no signs of violence in the videos but, in the first, Mr Cantlie made it clear he was speaking as a prisoner whose life was in danger.
In his plea for his son's release, Mr Cantlie said: "As a family we experienced great relief seeing and hearing John and knowing that he is alive. This was followed by the feeling of despair and helplessness.
"To those holding John, please know that he is a good man. He sought only to help the Syrian people and I ask you for all that is sacred to help us and allow him to return home safely to those he loves and those who love him."
Paul Cantlie was also the father of Jessica and Toby, and a husband to his late wife Carol.
In his later years he gave a huge amount of his time to Southampton General Hospital, where he was a governor, the family said.