Terrorism arrests: Suspects held in London and Bedfordshire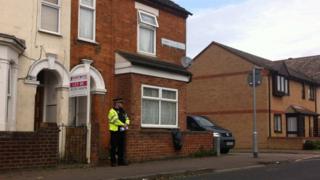 Anti-terrorism police have arrested two people, including a woman suspected of "preparation of terrorist acts".
The 25-year-old woman was arrested in Bedfordshire and a man, 32, was held in London on suspicion of "attending a place used for terrorist training".
Police said the arrests were not connected, but both were "related to Syria".
The arrests were carried out by the Metropolitan Police's SO15 Counter Terrorism Command.
Both suspects are being held at central London police stations.
Officers searched two Bedfordshire addresses, including one in Granville Street, Bedford.
An address in west London and another in south-west London are being searched.