English Heritage adds hundreds of sites to 'at risk register'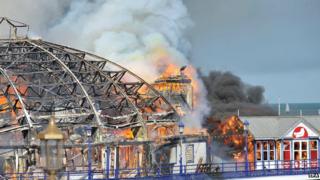 More than 660 sites have been added to English Heritage's "at risk" register.
They include Eastbourne Pier in Sussex, scene of a devastating fire in July which engulfed its structure and destroyed arcade buildings.
There are a total of 5,752 English Heritage sites deemed at risk, a third of which have been on the register since it began in 1999.
The register covers sites that are in danger of being lost through neglect, decay or inappropriate development.
English Heritage says this year's list is the most comprehensive to date.
'Can't give up'
Sites deemed at risk and in need of rescue include listed buildings, places of worship, industrial sites, monuments, archaeology and conservation areas, parks, wrecks and battlefields.
Geevor Tin Mine in Cornwall, the largest surviving such mine in Europe, has also been added to the list.
English Heritage says Bedlam Furnaces in Ironbridge Gorge needs a roof to give it shelter from the weather and allow the structure to stabilise.
Shipwreck Hazardous, an 18th Century British warship beached in Sussex during a storm in 1706, has also been deemed in need of protection.
Simon Thurley, chief executive of English Heritage, said: "The next few years will be crucial for at risk sites.
"We can't give up on these incredibly important historic buildings."
Regional director Greg Luton said restoration and getting sites off the register was a gradual process.
"We have no quick solutions, which is why it's so important for us to work with owners, members of the public and volunteer groups to protect our heritage sites in England," he added.
'Public can help'
During the past year, £8.8m has been spent on 262 sites on the at risk register.
In total 575 sites were deemed no longer at risk.
These include Langham Airfield Dome in Norfolk, which was designed in 1942 to train anti-aircraft gunners and is one of only six left in the country.
One of the more unusual sites to be rescued this year is the Newman Brothers Coffin Works in Birmingham which was built in 1894 and provided coffins for the funerals of Sir Winston Churchill and Neville Chamberlain.
The grave of tightrope performer Emile Blondin, famed for crossing Niagara Falls via tightrope, also drops off the list this year - although the cemetery itself remains at risk.
Battersea Power Station was added to the register in 1991 following its closure in 1983.
English Heritage is now working closely with the current owners where there is an £8bn redevelopment under way.
Along with the restoration of the power station itself, the 42-acre site it sits on will be transformed into homes, shops, cafes, offices and public space.
Once completed in 2025 the development hopes to attract 40m visitors each year.
Mr Luton said anyone could help to protect English Heritage sites.
"Members of the public can help to prevent sites from becoming at risk or help sites that are already established as at risk by getting in touch with their local history groups - often at risk sites will also have volunteer groups," he added.