Sir Cliff Richard police raid inept say MPs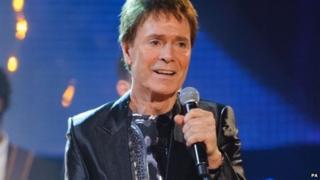 A police raid at the home of veteran pop star Sir Cliff Richard has been described as inept by a group of MPs.
The home affairs select committee said South Yorkshire Police should not have tried to cut a deal with a BBC reporter who approached them about the story.
The committee's report looked into how the BBC obtained details in advance of the raid in Berkshire on 14 August.
South Yorkshire Police said its actions were well intended but admitted they were "ultimately flawed".
Sir Cliff denies an alleged historical offence of sexual assault at a religious event in Sheffield in 1985.
Inside access
The committee said police sometimes decided to publicise the name of the subject of an investigation for operational reasons - for example, to encourage potential witnesses to come forward, but it was wrong to do so otherwise.
The MPs said that when the BBC journalist approached South Yorkshire Police about the story ahead of the raid in Sunningdale, the force should have contacted senior BBC executives to explain how any premature publication could have damaged the investigation.
BBC director general Lord Hall confirmed to the committee that the broadcaster would act on such requests from chief constables, the report said.
The committee said that without such an approach the BBC was well within its rights to run the story - although Sir Cliff had "suffered enormous, irreparable damage to his reputation" as a result.
'Live television'
Committee chairman Keith Vaz said: "South Yorkshire Police's handling of this situation was utterly inept. The force allowed itself to hand over sensitive information to a journalist and granted him privileged access to the execution of a search warrant.
"The email exchanges could easily be mistaken for a script from The Bill. The force should have refused to co-operate and explained to senior BBC News executives why the premature broadcasting of a story, which they claimed the journalist threatened, would have prejudiced the investigation."
Mr Vaz added: "No British citizen should have to watch their home being raided by the police live on television.
"Sir Cliff Richard has suffered enormous and irreparable damage to his reputation and he is owed an apology over the way matters were handled.
"Police forces should consider carefully how they deal with approaches from journalists on such matters in the future. Someone in possession of sensitive information decided to leak details of the investigation to the media. We deplore this.
"South Yorkshire assert that the journalist stated it came from Operation Yewtree. The journalist denies this. South Yorkshire should have alerted the Metropolitan Police immediately. Their reasons for failing to do so are unsustainable."
Yewtree is the Met's investigation into Jimmy Savile and others.
'Fully co-operating'
BBC Trust chairwoman Rona Fairhead told BBC Radio 4's Today programme the matter had been an "editorial decision".
Mrs Fairhead, speaking in her first BBC interview since taking up the position earlier this month, said: "Clearly, I have huge sympathy for anyone, whether they are a celebrity or not, if they are known and publicised to be part of a police investigation, particularly if it doesn't lead to charges.
"But I have to say this is an editorial decision. It is a matter for the executive and the home affairs select committee did say... that the BBC was entirely appropriate in making this report."
South Yorkshire Police said in a statement: "Whilst we believe our actions in relation to dealing with the media were within policy and were well intended, they were ultimately flawed and we regret the additional anxiety which was caused to Sir Cliff Richard.
"South Yorkshire Police has changed the way it deals with this type of media enquiry. In high profile cases the force no longer provides privileged briefings to reporters, nor does it confirm information which media sources seek to verify."
The force said it was "fully co-operating with the Metropolitan Police investigation regarding the original source of information".
Sir Cliff has been has been interviewed under caution by appointment with police but has not been arrested or charged. He says the claim of an assault is "completely false".
The BBC has been criticised for its coverage of the search after it found out about the operation in advance and had cameras stationed at Sir Cliff's home when officers arrived.
The broadcaster has previously said that its source relating to the police investigation was not the South Yorkshire force.
'Grave concern'
A BBC spokesman said: "The committee chairman has already said that the BBC acted 'perfectly properly' in handling this story, and we're pleased today's report confirms this.
"Our reporter said very clearly he did not reveal his sources to South Yorkshire Police. We stand by his account."
Scotland Yard said it had no evidence to substantiate the claim that Operation Yewtree had been the source of the leak.
"Any suggestion or speculation that the MPS (Metropolitan Police Service) may have been responsible for the leak of information to the BBC about such a sensitive and live investigation causes us grave concern," it said in a statement.
"Officers who have responsibility for Operation Yewtree have worked for years to build trust amongst the victims of abuse, giving many of them the confidence to speak out and report offences.
"Over the last two years the Yewtree team has routinely handled and received a significant amount of information and intelligence that is high-profile, sensitive and newsworthy, none of which has come into the public domain.
"Indeed, the MPS has faced criticism from the media for not providing them with greater levels of information. If any further information comes to light that allows us to investigate this matter further we will of course do that."