First female Church of England bishop 'expected next year'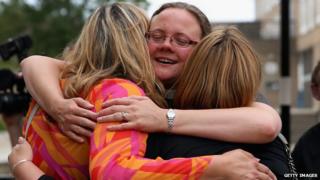 The Church of England is likely to appoint its first female bishop in 2015, a senior Church figure has said.
The general secretary of the General Synod, William Fittall, said the body could pass an amendment to Canon law "in minutes" when it meets in November.
And positive discrimination could be used in the "rare" event of a dead-heat, he said.
The Church voted to allow women to become bishops in July after a previous vote in 2012 failed.
The first vacancy in a diocese will be Southwell and Nottingham, followed by Gloucester, Oxford and Newcastle, Mr Fittall said.
He also said potential female candidates were already being prepared, with the system "gearing itself up" for change.
'Very suitable'
"When you have half the human race not eligible even for consideration, at the point at which they do become eligible there are manifestly people who might well have been considered in the past.
"So there is a whole system and that does include women in relation to archdeacons and deans but up to now bishops haven't been able to say 'This particular female priest would be very suitable as a bishop'.
"So I would be surprised, personally, if we didn't have the first announcement in 2015," he said.
The vote will take place at the General Synod when it meets on 17 and 18 November and there will be no additional discussion before it, Mr Fittall said.
The move to allow women bishops would see a line added to the start of Canon 33 that read: "A man or woman may be consecrated to the office of bishop."
Additional measures paving the way for the appointment of women bishops received royal assent from the Queen on Thursday.
In November 2012, the vote to allow female bishops failed by six votes in the House of Laity.
The vote cost the Church "a measure of credibility", former Archbishop of Canterbury Rowan Williams said.
But in July, the House of Laity voted 152 in favour and 45 against, with five abstentions.
In the House of Bishops, 37 were in favour, with two against and one abstention. The House of Clergy voted 162 in favour, 25 against and there were four abstentions.
At the time, Archbishop of Canterbury Justin Welby said he was "delighted" with the result.