Nuisance calls and texts targeted by fines plan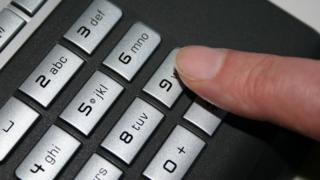 Firms behind marketing calls and texts which cause "annoyance, inconvenience or anxiety" could be fined up to £500,000 as part of a planned crackdown on nuisance calls, ministers say.
Current rules punish firms only if there is proof they cause "substantial damage or substantial distress".
But a government consultation has begun on lowering this threshold.
Culture Secretary Sajid Javid said firms "bombarded people" and "escaped punishment" under the current rules.
Consumer group Which? said the rule change would be a "big step forward".
'Easier for regulators'
Mr Javid said current rules let companies get away unpunished if they did not cause "enough harm" for the Information Commissioner's Office to prove there had been "substantial damage or substantial distress".
"Being called day after day may not be 'substantially distressing', but that doesn't make it acceptable," he said.
"I want to make it easier for companies to face the consequences of ignoring the law and subjecting us to calls or texts we have said we don't want."
Richard Lloyd, executive director of Which? and chairman of the government's taskforce on marketing consent, said: "Changing the rules so it's easier for regulators to punish the companies making nuisance calls is a big step forward and a victory for the 125,000 people who supported our Calling Time campaign."
The consultation will close on 7 December.
For avoiding nuisance calls, Ofcom advises people not to answer calls from unknown numbers and to "be careful which boxes you tick" on forms that ask if companies can get in contact.
It also suggests using the Telephone Preference Service, through which people can opt out of receiving unsolicited sales or marketing calls.