UK profit warnings at highest level since 2008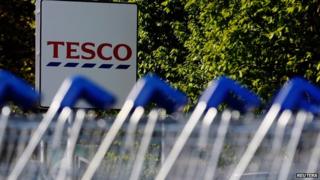 Profit warnings by UK-listed firms have risen to their highest summer level in six years, according to a new report.
The report, by the consultancy firm EY, said quoted firms issued 69 profit warnings in the third quarter of 2014, up from 56 in the same period in 2013.
It is the highest level for the three-month period to 30 September since 2008, the forecaster added.
Supermarket giant Tesco was among the companies to issue profit warnings during the period.
Profit warnings are issued by companies quoted on a stock market to alert investors that profits will be lower than expected.
The survey said that despite a rise in economic input, firms were facing crowded and competitive markets.
It also said bargain-hunting customers, rapid structural change and, until recently, a strong pound had hampered progress.
'Perfect storm'
EY head of restructuring for UK and Ireland Alan Hudson said: "New entrants, new technologies and shifting consumer behaviour continue to challenge established business models and nowhere is this more visible right now than in food retailing.
"The pressure on sales and margins is largely focused on established supermarkets, struggling to adapt to the move away from the big weekly shop and the challenge posed by an expanding group of warehouse, supermarket and high street discounters."
Six retailers issued warnings during the period covered, up from two in the second quarter and the highest number in three years.
The report said the sector faced big changes, despite retail sales rising throughout most of the summer.
The construction and materials industry issued a high number of warnings because older contracts have come under intense margin pressure due to rising costs.
Five warnings were issued in the sector, the highest total since the second quarter of 2012.
'Struggling to adapt'
Mr Hudson added: "Contractors have found themselves in a 'perfect storm' of low-margin legacy contracts and rising costs.
"During the recession, many contractors priced aggressively in response to competitive pressures and the need to at least to cover their overheads and retain critical mass for better times."
EY capital transformation leader for Europe, Middle East, India and Africa, Keith McGregor, said: "Profit warnings have continued apace from the third into the fourth quarter.
"This implies that at best companies and markets are misreading the post-crisis economy and are struggling to adapt to rapid structural changes, and at worst have once again over-estimated the pace and nature of this recovery."