John Cantlie: IS hostages face waterboarding for escape attempts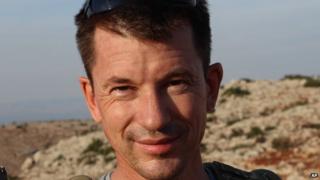 A British hostage being held by Islamic State (IS) has said prisoners of the militant group who have tried to escape have been punished with waterboarding.
The statement came in the latest video featuring 43-year-old journalist John Cantlie, who was seized in late 2012.
Mr Cantlie reads an apparently scripted message that criticises the British and US's stance on hostage negotiations.
He quotes from emails in which families of hostages allegedly complained about the US refusal to negotiate with IS.
One message, which Mr Cantlie dates to 17 July this year, allegedly said: "We have begged them so many times already. Everyone has buried their heads in the sand.
"We feel we are caught in the middle between you and the US government, and we are being punished."
Referring to the hostages' treatment by the captors, Mr Cantlie says: "Some of us who tried to escape were waterboarded by our captors, as Muslim prisoners are waterboarded by their American captors."
'Direct contact'
At the end of the six-minute video, the journalist says there will be more messages to come.
Publication of the video comes days after the death of Mr Cantlie's father Paul, 80, who had recorded a video message from his hospital bed urging IS to release his son.
Jessica Cantlie, John Cantlie's sister, has also appealed for ''direct contact" with the militants.
John Cantlie, an experienced journalist and photographer, has been held captive in Syria twice.
He was kidnapped in July 2012, and handcuffed and blindfolded for a week, but escaped with help from the Free Syrian Army.
He was kidnapped for a second time when he returned to Syria towards the end of 2012.
Islamic State - also known as Isis or Isil - has taken control of large areas of Syria and Iraq.
Since August, IS has filmed and posted online the deaths of four Western hostages.
They were US journalists James Foley and Steven Sotloff, British aid worker David Haines and Alan Henning, a taxi driver from Salford who was a volunteer on an aid mission to Syria.