Five remanded over UK 'terror plot'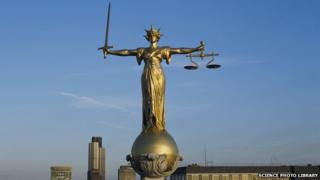 The trial of five men accused of involvement in a plot to kill UK police officers or troops is to take place next June.
Tarik Hassane, Suhaib Majeed, Nyall Hamlett, and Momen Motasim, all from London, have been charged with intending to commit acts of terrorism.
A fifth man, Nathan Cuffy, 25, also from London, faces firearms offences.
They were remanded in custody after the Old Bailey hearing and are due to enter pleas to the charges in January.
The men, who have been jointly charged with the intention of committing acts of terrorism, or assisting others to commit such acts, between 8 July and 7 October, are:
Tarik Hassane, 21, of Dalgarno Way, west London
Suhaib Majeed, 20, of Church Street Estate, north-west London
Nyall Hamlett, 24, of Great Western Road, west London
Momen Motasim, 21, of Hallfield Estate, west London
Along with Cuffy, they were charged following arrests in London earlier this month.
The Metropolitan Police has said the men are accused of taking an oath of allegiance to the Islamic State (IS) militant group.
They are alleged to have arranged to buy a handgun equipped with a silencer and conducted "hostile reconnaissance" of a police station and Army barracks in London using Google Street View.
The terror charges also include allegations the four men set up "methods of secret communications" and "entered into covert discussions".
They are accused of discussing the sourcing of a moped, along with where they could store the vehicle in Shepherd's Bush, west London.
The charges also allege the men conducted reconnaissance of Shepherd's Bush police station and White City Territorial Army barracks.
Police say the men are also accused of viewing and retaining images sent via Instagram of two Met Police officers and two Met police community support officers, and having "graphic images" of the beheading of Steven Sotloff.
Mr Sotloff, a US journalist, was killed by IS militants in Syria last month.