UK opposes future migrant rescues in Mediterranean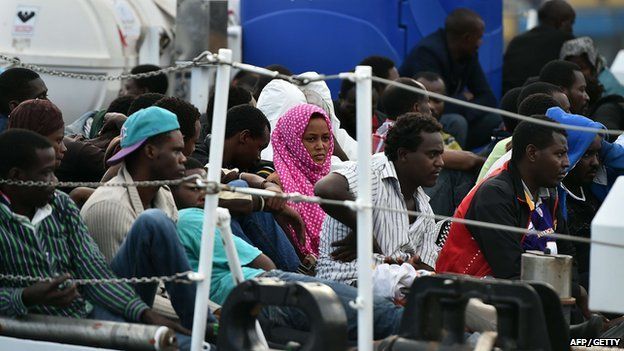 The UK would not support future search and rescue operations to prevent migrants drowning in the Mediterranean Sea, the Foreign Office has said.
Foreign Office minister Baroness Anelay has said such operations can encourage more people to attempt to make the dangerous sea crossing to enter Europe.
An Italian mission is being wound down and an EU force will carry out a more limited border security operation.
The UK has offered support to the new enterprise, the Home Office said.
Italy has been running a major search and rescue operation called Mare Nostrum off the Libyan coast for a year, the operation being triggered by a boat disaster off the island of Lampedusa in which more than 300 migrants drowned.
Operation Triton, run by EU border agency Frontex, will be launched on Saturday.
It will not only be different in nature to Mare Nostrum, as it does not have a search and rescue function, but will also have only a third of the budget of the Italian mission.
The operation has six ships, two planes and one helicopter at its disposal.
EU border control officials are meeting in Brussels to discuss how best to deal with a surge in migrants trying to reach Europe.
A Downing Street spokeswoman said the UK had been asked to provide a debriefing expert to the Frontex operation and that replacing the Italian patrols had been agreed "unanimously" at a recent Justice and Home Affairs Council.
The government is planning to send someone next month, she added.
Equipment has been pledged by countries including France, Finland, the Netherlands, Spain, Portugal and non-EU member Iceland.
A Home Office spokesman said the UK had offered "initial support" to Triton, in the form of finance and expertise, and is "considering a further contribution".
He added: "Ministers across Europe have expressed concerns that search and rescue operations in the Mediterranean have acted as a pull factor for illegal migration, encouraging people to make dangerous crossings in the expectation of rescue.
"This has led to more deaths as traffickers have exploited the situation using boats that are unfit to make the crossing."
The Home Office also said the UK and its European partners had agreed to work more closely within the EU, and with countries of origin, to tackle the root causes of illegal immigration.
There has been a rise in the number of migrants trying to reach Italy in the past year, with many setting sail from Libya in overcrowded boats.
About 150,000 migrants - mostly from northern Africa and the Middle East - have been rescued by Italian ships over the past 12 months. This year alone, some 3,000 migrants have drowned.
Mare Nostrum is being shut down because the Italian government does not have the money or resources to continue, said BBC Europe correspondent Duncan Crawford.
Under Triton, a "small number of vessels" will be carrying out patrols but will not travel into deep water, meaning the "possibility for rescuing people will be much more limited", he added.
Frontex spokeswoman Isabella Cooper told the BBC: "Our operation covers a very specific operational area and we only have a few vessels and a few aircraft.
"The Mediterranean Sea is over 2.5 million square kilometres - it is virtually impossible to have a full overview of what is happening at sea.
"Our operation is exclusively that of border control. Mare Nostrum is an operation that aims at search and rescue, so these two operations are very different."
In a House of Lords written answer earlier this month Lady Anelay explained that the government would not be supporting future search and rescue operations in the Mediterranean.
She said: "The government believes the most effective way to prevent refugees and migrants attempting this dangerous crossing is to focus our attention on countries of origin and transit, as well as taking steps to fight the people smugglers who wilfully put lives at risk by packing migrants into unseaworthy boats."
BBC political correspondent Chris Mason said: "The stark question now being asked is this - do extensive search and rescue operations make a horrendous situation worse, by tempting more people to try to reach the European Union?
"Ministers from across the EU have concluded the answer to this is yes."
The ending of the official Italian sea and rescue operation combined with the UK's stance could contribute to people "needlessly and shamefully dying on Europe's doorstep", the Refugee Council claimed.
Chief executive Maurice Wren said: "The British government seems oblivious to the fact that the world is in the grip of the greatest refugee crisis since the Second World War.
"People fleeing atrocities will not stop coming if we stop throwing them life rings.
"Boarding a rickety boat in Libya will remain a seemingly rational decision if you're running for your life and your country is in flames."
Michael Diedring, secretary general of the European Council on Refugees, said he was "absolutely" opposed to the policy.
He told BBC Radio 4's Today programme: "One of the reasons these people are making the journeys is because the policy of the European Union is that there are almost no safe and legal means to access European soil to file an asylum claim.
"So individuals who are stranded in north Africa who are fleeing for their lives, the only way that they can attempt to come to Europe is through the use of organised criminals."
He said he was "disgusted" by the UK and European Union's position, describing it as "morally reprehensible".
"If the EU has not put in place safe and legal channels to access territory, then at least the EU should take responsibility for those who attempt to make the journey," he added.