Change at the top for Britain's spies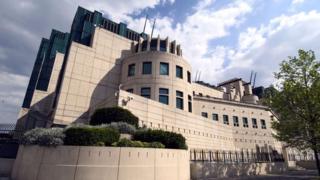 It was a telling sign that candidates to be head of GCHQ a few months ago had to undergo a mock broadcast interview as part of the application process.
A few years back, the idea of such a thing would have been laughed out of the gentleman clubs of Pall Mall where old spies used to gather to drink.
Go back a couple of decades and even the names of British spy chiefs were kept out of the public eye. How times have changed.
And as two new spy chiefs begin work on the same day - Robert Hannigan (who clearly passed his screen test) at GCHQ and Alex Younger at the Secret Intelligence Service MI6 - dealing with those changing times will be at the top of their inboxes.
The interview process shows that, paradoxically, to be the head of a secret intelligence agency in the modern world you need to know how to communicate to the public - as witnessed by the trend towards speeches, the odd interview and a precedent-setting (but not exactly electrifying) appearance before cameras in front of the Parliamentary Intelligence and Security Committee.
Those appearances are just one part of a wider challenge of dealing with changing public expectations and new technology.
But it is a challenge which also comes at a time when the world is less predictable than it has seemed for many years - who a year or two ago would have predicted a summer in which a self-proclaimed Islamic Caliphate in the Middle East would be expanding at the same time as Russian soldiers would be fighting in Ukraine?
Modernisation agenda
In London, Alex Younger moves into the spacious office belong to 'C', the chief of MI6, with its view over the river towards parliament.
MI6's job is to recruit human spies abroad.
Younger is being portrayed as a candidate who will continue a modernisation agenda set by Sir John Sawers.
Where Sir John Scarlett - the last chief but one - decorated his office with memorabilia from MI6's history, Sawers is said to have preferred a more modernist decor.
Even though he briefly began his career in MI6, Sawers took over as an outsider whose background in Downing Street and the Foreign Office was perceived as useful in the task of aligning MI6 closer to the rest of the government machine in Whitehall.
That shift has been accentuated by the emergence of the National Security Council as a powerful body in which all the intelligence and military chiefs sit with ministers.
Sawers was a vocal presence at those meetings, unafraid to voice his opinions, insiders say.
There were some inside MI6 though, who grumbled at being pulled too close to Whitehall, fearing the loss of the distinct identity the service has long enjoyed.
Bitter legacy
A few years ago, the bitter legacy of Iraq's absent weapons of mass destruction still hung over MI6, the questions over what had gone wrong dominating what seemed like every conversation.
That era has largely passed although the new chief may still not escape other 'legacy' issues - including for instance, ongoing court cases and inquiries into MI6's involvement in US rendition operations after 2001, and the attacks of 9/11.
A more forward-looking challenge though will be working out how technology is changing the face of human spying - acting sometimes as an enabler to find targets to approach, but also making the business of going undercover for your own spies much more challenging.
All three British spy agencies - GCHQ, MI5 and MI6 - have moved much closer together in recent years but the centrality of technology means that GCHQ - once the most secret - has grown in importance and prominence in an increasingly digital world.
Over in Cheltenham, the task for Rogert Hannigan is to guide an organisation still dealing with the aftershocks of the Snowden disclosures which began a year and a half ago.
In the first few months, GCHQ was caught in the headlights as they saw their once secret intelligence programmes splashed across the front pages of the newspaper amid accusations of 'mass surveillance'.
In his final speech, the outgoing director Sir Iain Lobban, who spent his entire career in GCHQ, offered a spirited defence of his staff and their work.
"We don't suddenly lose our souls the moment we swipe into the Doughnut," he said, referring to the building in which they work.
Hannigan is an outsider who comes from a career dealing with security issues in other departments.
His task will be to draw the geographically distant GCHQ closer to Whitehall and to build public understanding. But in doing so he will need to reassure staff who may be nervous of that process whilst ensuring his teams maintain an edge against the hardest targets.
Under pressure
Back in London and over the river from MI6, Andrew Parker at MI5 is the one intelligence chief providing continuity.
His domestic Security Service is under pressure though because of the threat posed by returning foreign fighters from Iraq and Syria.
There is a grim awareness that whilst they have stopped a number of plots - and are likely to stop many more - something will almost certainly get through.
The nature of terrorist plots has changed over time. Compared to the 7/7 attacks in 2005 they are less sophisticated but also harder to detect.
There is less travelling to Pakistan for training and more communicating with Syrian jihadists online.
This has placed more pressure on communications and digital intelligence than in the past. And it is the reason that intelligence officials and police say they worry that revelations about the state's capabilities have tipped off adversaries as to what is and is not possible allowing them to evade monitoring.
Privacy row
In contrast, a vocal band of those concerned with privacy argue that there is a need for the public to know what is being done by the spies and they want to ensure accountability and oversight mechanisms are sufficiently robust.
They worry that advances in technology will enable spies to do too much, the converse of spies who worry about keeping up with the technology used by everyone else.
Thinking through what needs to be secret, and what does not, is going to be much harder than just being willing to do the occasional speech or interview.
Working out where technology is a problem and where it is a solution - and where it changes the balance of ethics and accountability - is going to be the challenge.
Trying to reconcile these different pressures - and doing so at a time of a high operational tempo in an uncertain world - is likely to keep all three spy chiefs busy.