Charles and Camilla complete final day of Colombia tour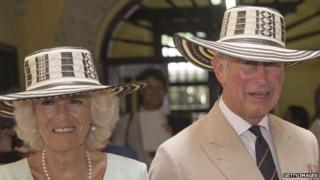 The Prince of Wales and the Duchess of Cornwall have completed the final day of their tour of Colombia with a visit to the walled city of Cartagena.
Dancers and musicians performed for the couple, who were given traditional Colombian sombreros before hearing about efforts to tackle drug smuggling.
The couple ended their visit to the country with a formal reception on board HMS Argyll, moored in Cartagena.
The prince and duchess will begin a four-day tour of Mexico on Sunday.
The event on board HMS Argyll, which marked the end their tour of Colombia, had been planned as a full sunset ceremony as the Royal Navy Ensign was lowered. However, guests were forced to shelter from heavy downpours.
Bilateral relationships
The royal couple met guests, including Colombian President Juan Manuel Santos, aboard the Type 23 frigate, along with the warship's officers and senior figures from the Latin American country.
Earlier, they visited a museum that is home to gold from Colombia's early history.
Prince Charles and President Santos also addressed a conference about the health of the oceans.
The tour was organised to provide a "boost" to the bilateral relationships between the UK and the two Latin American countries.
It is Prince Charles's first visit to Colombia since 1974 and it will be his first to Mexico since 2002.
The prince's previous visit to Colombia was as a naval officer on HMS Minerva. He has visited Mexico four times - in 1966, 1970 and 1993, as well as in 2002.