UK travellers warned of increased global terror threat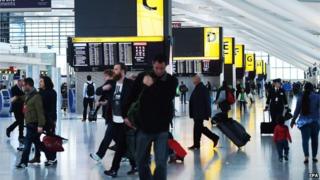 British travellers have been warned they could be targeted by terrorists seeking revenge for UK air strikes against Islamic State (IS) militants.
The Foreign Office (FCO) has updated its travel advice for all destinations.
It urges Britons living or travelling overseas to be "vigilant" because of the threat from those "motivated by the conflict in Iraq and Syria".
The FCO said it was responding to the "generalised threat" rather than warnings of a specific attack.
Parliament backed British participation in air strikes against IS extremists in Iraq in September, at the invitation of the Iraqi government.
RAF aircraft are conducting flights almost daily, it is believed.
IS has seized large parts of both Iraq and Syria, up to the Turkish border.
The new advice comes after the UK national terror threat level was raised from "substantial" to "severe" in August, meaning an attack was "highly likely".
The updated information, being added to all travel advice pages on the FCO website, states: "There is considered to be a heightened threat of terrorist attack globally against UK interests and British nationals from groups or individuals motivated by the conflict in Iraq and Syria.
"You should be vigilant at this time."
A spokeswoman for the Association of British Travel Agents advised UK nationals overseas "be aware of an increased threat from terrorism".
"All travellers should familiarise themselves with Foreign Office advice before they travel - in particular, country specific advice for their destination."
"Holidaymakers should be alert but not alarmed," she said.
The four threat level categories used by the FCO in advice to travellers are:
High, Countries include France, Thailand and India.
General. Countries include Spain, Italy, China, USA and Australia.
Underlying. Countries include South Africa, Ireland, Norway and Portugal.
Low. Countries include Switzerland, Mexico and Japan.
Dr Frank Faulkner, terrorism expert at the University of Derby, told BBC News that the move was "a precaution as much as anything else".
He said that the nature of global threats made it hard to pinpoint the most vulnerable countries: "It could well come from anywhere."
He went on: "The likely main countries would of course be North America, Western Europe and so on, primarily because some of these countries are involved in operations against Isis in Iraq."
The FCO has advised against all travel to Syria and warned Britons already there to leave.
It has also advised against all travel to most of northern and western Iraq, and against all but essential travel to the rest of the country.