Feminist T-shirt sweatshop claims denied by Fawcett Society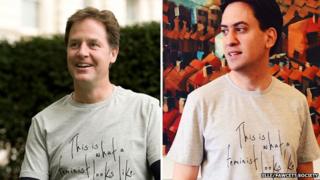 A women's group has denied claims T-shirts it used in a feminist campaign were made in a sweatshop.
Deputy PM Nick Clegg and Labour leader Ed Miliband have both been pictured in the Fawcett Society's 'This is what a feminist looks like' shirts.
The Mail on Sunday said they were made in "sweatshop" conditions in Mauritius by workers earning 62p an hour.
However, the Fawcett Society said it had seen evidence that "categorically refutes" the sweatshop claims.
Labour's deputy leader Harriet Harman also wore one of the T-shirts, which retail at £45, in the Commons. Prime Minister David Cameron reportedly declined to be photographed in it.
The Mail on Sunday toured one of six factories on Mauritius owned by Compagnie Mauricienne de Textile (CMT), which makes the garments, and claimed machinists slept 16 to a room.
The newspaper also alleged that women working at the factory make 6,000 rupees, or £120, a month - which the paper said was a quarter of the country's average wage.
---
Mauritius Minimum Wage
Mauritius minimum wage rate in 2013 was 607 Mauritian rupees per week for an unskilled worker in the Export Oriented Enterprises (EOE) area
This equates to £12.14 per week, or 27p per hour for a 45 hour week
794 rupees per week was the minimum wage for an unskilled factory worker outside the EOE
This equates to £15.88 per week, or 35p per hour for a 45 hour week
The standard legal working week in the EOE is 45 hours
Source: US Department of State
---
Eva Neitzert, deputy chief executive of the Fawcett Society, said: "We are pleased to confirm that we have today seen expansive and current evidence from Whistles that the CMT factory in Mauritius they used to produce our 'This is what a feminist looks like' T-shirt conforms to ethical standards.
"We have been particularly pleased to receive evidence that 100% of workers are paid above the government-mandated minimum wage and all workers are paid according to their skills and years of service, the standard working week is 45 hours, and workers are compensated (at a higher rate of pay) for any overtime worked, there is a high retention of staff and employees are offered training and development.
"An audit into the CMT factory was carried out in October 2014 by an independent not-for-profit organisation and this did not reveal any material concerns on the working conditions, the welfare or the health and safety of workers, and workers are able to join a union and there is a union presence in the factory."
Ms Neitzert also said that the Fawcett Society would work with an international trade union body to scrutinise the evidence it had seen "so that we can be absolutely assured of its provenance, authenticity and that all findings are robust and factual".
Elle magazine, which makes the shirts in collaboration with Whistles, said the clothing range, also including a phone case and clutch bag, had been created as part of its first feminism issue.
Celebrities including actors Benedict Cumberbatch, Joseph Gordon Levitt and Tom Hiddleston have been photographed wearing the T-shirt for the magazine.