Ray Teret denies raping girl with Jimmy Savile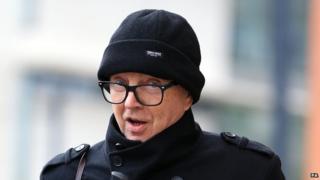 A former radio DJ has denied raping a 15-year-old girl alongside Jimmy Savile in the 1960s.
The alleged victim told a trial in Manchester that Ray Teret took her from a disco to a flat where Savile was present, then the two men raped her.
But Mr Teret said that he had "never had sex in the same room with anyone and certainly not Jimmy Savile".
Mr Teret, 73, from Altrincham, denies more than 30 charges of sex abuse, including 18 counts of rape.
He told Manchester Minshull Street Crown Court how he first met Savile in Manchester in the late 1950s after winning a singing contest. He went on to work at one of Savile's discos.
"He wanted me to be a trainee disc jockey. That I would learn how to do it properly, how to do the presentation, how to make people dance and not stop," Mr Teret said.
"He explained how to count the beats on the record, the tempo. How to project to the back of the hall rather than shouting, things like that."
Savile lived in Great Clowes Street, Higher Broughton, the jury heard. Asked to describe the property, Mr Teret described it as "a big old rambling Victorian square building".
"It was like a haunted house on the corner," he said.
"It was derelict, the whole house. There were no lights in the corridor. The door had no proper handle on it.
"There was just one room at the front. When he moved into it all the plaster had come off the walls. He got a doorman he knew to fill it all in matt black."
Mr Teret had a long career in broadcasting, working at various radio stations including Radio Caroline and Piccadilly Radio.
The trial was told that he had a previous conviction for unlawful sexual intercourse with an underage girl in 1998.
He is on trial with two other men - Alan Ledger, 62, also from Altrincham, and William Harper, 65, of Stretford - who have been described as "associates" of Mr Teret. Both deny all the charges against them.
The trial continues.