EU Commissioner Lord Hill urges calm on £1.7bn tax bill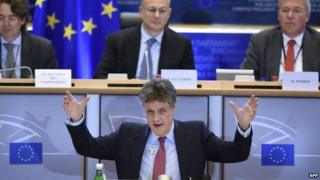 New European Commissioner Lord Hill has called for a period of calm in the row about David Cameron's refusal to pay a £1.7bn tax-contribution bill to the EU.
In his first broadcast interview since taking the job, he also said the question of the UK's EU membership was a "boil that needs to be lanced".
Mr Cameron has said the UK will not pay the EU surcharge by 1 December.
Treasury sources said Chancellor George Osborne would continue to demand a cut in the size of the bill.
In a meeting with EU finance ministers, Mr Osborne will also press for any payment to be delayed or phased in.
But a final agreement is not expected to be reached, the BBC's assistant political editor Norman Smith said.
Last month, David Cameron reacted angrily to the bill presented to the government by the EU for £1.7bn (2.1bn euros).
'Calm the situation'
The surcharge follows an annual review of the economic performance of EU member states since 1995, which showed Britain had done better than previously thought.
Elements of the black economy - such as drugs and prostitution - have been included in the calculations for the first time.
Italy, Greece and Cyprus were also asked to make extra contributions, while France and Germany are set for refunds.
Lord Hill told BBC Radio 4's Today programme: "It seems to me that this is one of those classic examples you get from time to time, where something that a group of people think are technical matters suddenly, and in this case for perfectly understandable reasons, become highly political.
"The sensible thing now is to try to calm the situation down, and to look at the facts, and to look at a practical solution to the challenges that various member states face."
The former leader of the House of Lords, who was appointed as European Commissioner for financial services on 8 October, said a meeting of finance ministers later this week would go some way to finding that "practical solution".
Losers
Additional sum to pay
United Kingdom
£1,676m
Netherlands
£506m
Italy
£268m
Greece
£70m
Cyprus
£33m
Winners
Reduction
France
£801m
Germany
£614m
Denmark
£253m
Poland
£249m
Austria
£232m
In his new role, Lord Hill said he was required to act in the interests of all the EU's 28 states, not just promote UK views.
The EU debate in Britain was going through a "lively stage", he said, adding that other countries were having similar debates.
He acknowledged that EU institutions could seem "very remote" to some member states.
A referendum on EU membership has been promised by the prime minister if the Conservatives win a majority at the next general election.
Speaking on the wider issue of whether the UK should remain in the union, Lord Hill said he hoped the country would decide to do so.
"My view is that on the back of a reform process, Britain would want to choose to stay in the EU," he said.
"Obviously that's a choice for the people of Britain, there's democratic process to go through if we have that referendum. But I think it is good to address that question, I think there is a boil that needs to be lanced."
Liberal Democrat leader and Deputy PM Nick Clegg said leaving the EU would be "absolutely disastrous" for the UK, and said many Conservative MPs favoured an exit "come hell or high water".
At Prime Minister's Questions on Wednesday, Labour leader Ed Miliband accused Mr Cameron of "weasel words" over Europe as he challenged him over his support for EU membership.
Ahead of a summit of northern European leaders, the prime minister of Finland, Alexander Stubb, cast doubt on Mr Cameron's hopes of making changes to the principle of free movement of people.
He told the Financial Times free movement was "holy" and said the appetite for a major treaty change was "quite meagre".
Lord Hill's career
Born in north London in July, 1960
Read history at Cambridge University
1980s - Special adviser to Kenneth Clarke in Conservative cabinet
Early 1990s - Adviser to then PM John Major during EU's Maastricht Treaty negotiations, which launched euro
1994-1998 - Senior consultant at lobbying firm Bell Pottinger Group
Founding director of Quiller Consultants
2010 - Becomes a Life Peer as Baron Hill of Oareford and junior education minister
Serves as leader of House of Lords and leader of Conservatives in the House