Ex-DJ Ray Teret describes sex party claims as 'insane'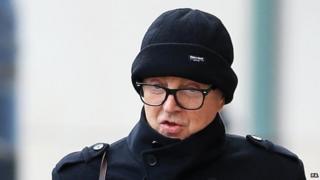 A former radio DJ accused of raping a 15-year-old girl with Jimmy Savile has said claims he had sex parties with young girls are "insane".
Ray Teret told a jury he would not have put his life "on the line" that way.
He also told a court in Manchester a previous conviction of unlawful sexual intercourse with an underage girl in 1998 had been a "wrongful" conviction.
Mr Teret, 73, from Altrincham, denies more than 30 charges of sex abuse, including 18 counts of rape.
The offences are alleged to have taken place over four decades, dating back to 1962.
One of the complainants claimed that Mr Teret had sex with her when she was 12 or 13 years old in a flat above a record shop in south Manchester in the early 1970s.
'Major radio station'
She said he encouraged her to bring young friends to the shop and it is alleged that three of them were then sexually abused.
The DJ - whose broadcasting career included spells at Piccadilly Radio in Manchester and at Radio Caroline - told Manchester Minshull Street Crown Court he did not know any of the four women.
When his barrister Nicholas Johnson asked if he allowed young girls into the flat, Mr Teret replied: "No, sir. Not at all."
Asked if he ever had sex parties there, he said: "No sir. It's insane, I worked for a major radio station in Manchester. I am not going to put my life on the line for a child, except in the way of a charity."
The only people who went to his flat during that period were two girlfriends, said Mr Teret.
Another complainant said Mr Teret raped her in the mid 1990s after she replied to an advert in Loot magazine in which he said he was looking for "the next teenage pop sensation".
She eventually moved into his home in Altrincham, where she says she was raped by Mr Teret. He admitted they had sex but told the jury it was consensual.
The jury had heard that Mr Teret had been jailed for six months in 1999 after being convicted of unlawful sexual intercourse with a girl aged under 16 the previous year.
But Mr Teret told the jury that he had been wrongfully convicted and had not had sex with the girl.
He is on trial with two other men - Alan Ledger, 62, also from Altrincham, and William Harper, 65, of Stretford - who have been described as "associates" of Mr Teret. Both deny all the charges against them.
The trial continues.