Child abuse panel inquiry explained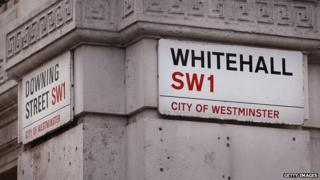 A panel looking into whether institutional failings in England and Wales allowed children to be sexually exploited sits for the first time later. But how will it work, and who are its key figures?
In October 2012, the Labour MP Tom Watson stood up in the House of Commons and asked the prime minister about "a powerful paedophile network linked to Parliament and Number 10".
The MP had been contacted by a former child protection manager who claimed there were links between paedophiles and the government going back decades.
It started a chain of events which led eventually to the establishment of the Independent Panel Inquiry into Child Sexual Abuse.
The panel does not yet have a head - its previous two chairwomen having resigned.
Lady Butler-Sloss stood down because of complaints that her late brother was attorney general for some of the period under scrutiny. Fiona Woolf faced similar concern over her social links to Leon Brittan, home secretary in 1984 when ministers were handed a dossier on alleged high-profile paedophiles
What is the inquiry's remit?
The panel is not going to determine whether named individuals or organisations committed criminal or civil offences.
But it will look at whether, from 1970 onwards, state institutions and other public bodies and organisations failed to identify child sexual abuse and exploitation.
It will examine whether such failings have since been addressed and recommend what should be done to address those that have not.
What access will it have?
Home Secretary Theresa May told MPs the panel would have access to "all government papers, reviews and reports it requests, and subject to the constraints imposed by any criminal investigations, it will be free to call witnesses from any organisation it deems appropriate".
But it is not yet a statutory inquiry and this is a problem for some.
Lawyers representing survivors are concerned that, as it stands, the inquiry does not have the power to compel witnesses to attend, to demand documents or to ensure those giving false evidence are prosecuted.
The home secretary has said that if the panel's incoming chairman wants to make it a full statutory inquiry, the government will make it happen.
The Survivors Trust, which represents 135 charities working with victims of abuse, expects the inquiry's status to be raised.
"The weight of public opinion and feedback from survivors will make it untenable," says chief executive Fay Maxted.
Which institutions will it look at?
Among the bodies and organisations to be examined by the panel are:
Parliament, government departments and ministers
Police, prosecutors, schools, care homes, prisons, local authorities and health services
Churches and other religious institutions
Political parties and the armed forces
What do victims say?
Survivor groups have expressed concern about how the panel is constituted and its terms of reference.
And Peter Saunders, from the National Association for People Abused in Childhood (NAPAC), says it might not get to the whole truth.
But he adds: "The most important thing is that we will never again accept the sweeping under the carpet, the turning a blind eye to abuse of children.
"If our children are better protected in the future we will have achieved something."
He says Theresa May must now find a "credible chairman".
"She can't afford to get it wrong again. The panel should be strengthened with more survivors and not just people there because of their political connections."
When will it report?
Mrs May initially said the inquiry would publish an interim report before the general election in May 2015.
But she told the House Commons on 3 November that, after losing two chairwomen, "the time scales have since shortened".
There is now no indication how long the inquiry will take. But the home secretary says the panel should explore "how it can report throughout the process on the work it is doing".