'Secret' terror trial jury discharged at Old Bailey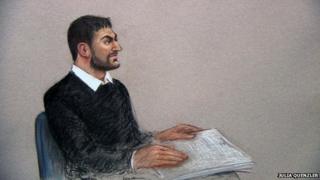 The jury in the semi-secret trial of Erol Incedal, who was accused of preparing for acts of terrorism, has been discharged.
The Old Bailey heard claims he was considering an indiscriminate Mumbai-style terror attack and had an address for a property owned by Tony and Cherie Blair.
At the outset of the trial, Mr Incedal, 26, denied all allegations against him.
The Crown Prosecution Service confirmed it now will seek a retrial.
During the trial, jurors heard Mr Incedal was stopped by police on 30 September last year on suspicion of driving too fast in his black Mercedes with no licence or insurance.
Officers found a piece of paper in his car with the address of a property belonging to Mr and Mrs Blair.
A bug was planted in the car and Mr Incedal was later monitored talking about a "Plan B".
'Coded messages'
On 13 October, Mr Incedal was stopped in his car again and arrested on suspicion of being a terrorist.
Police searched his home in south London and found notes on a "Plan A".
In a second property near Paddington, central London, police found a laptop with apparently coded messages believed to be about a Mumbai-style attack and a Kalashnikov rifle, the court was told.
Police also found a photograph of a synagogue on his phone, along with an internet search history that included YouTube pages on Isis.
Mr Incedal denied planning an attack. He admitted possessing a memory card that contained a bomb-making document, but said he had a reasonable excuse for it.
The majority of the trial was heard behind closed doors. Some evidence was heard completely in secret, some with accredited journalists who could not report on proceedings and some in open court.