RAF Tornado fighter jets complete Afghanistan mission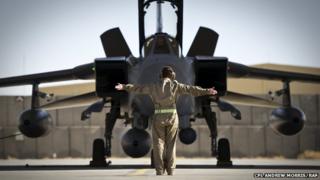 The RAF's Tornado fighter jets in Afghanistan are heading back to the UK after more than five years of operations in the country.
The Tornado GR4s, from 31 Squadron based at RAF Marham, Norfolk, flew out of Kandahar airfield early on Tuesday.
Air and ground crew will be welcomed home by friends and family when they return via RAF Akrotiri in Cyprus.
The RAF said the Tornados had provided vital help to Nato since taking over from RAF Harriers in June 2009.
They have been used to provide close air support and to strike important targets on the ground, and for reconnaissance using Litening III and Raptor pods to spot threats such as roadside bombs.
Last month, the last British combat troops left Afghanistan after the UK's 13-year military operation, with Camp Bastion handed over to Afghan control.