Romanian and Bulgarian worker migration to UK increases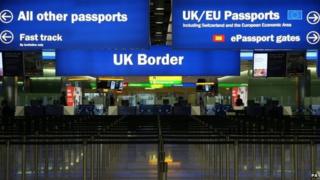 The number of migrants from Romania and Bulgaria working in the UK has increased again, official figures show.
The Office for National Statistics said there were 189,000 people born in one of the two countries who were in this category from July to September.
This was up from 158,000 the previous quarter and 140,000 a year earlier.
Figures for people from any EU country showed 1.8 million were employed in the UK, down 30,000 on three months ago but up 182,000 on the same time last year.
The total from outside the EU is 2,932,000 which is slightly down for the quarter but up by about 130,000 for the year.
Restrictions on the movement of Romanians and Bulgarians within the EU were lifted at the start of this year.
Employment in the UK by country of birth
Date
EU* (not UK)
EU14*
EU8*
Romania and Bulgaria
Jul-Sep 2012
1,553,000
720,000
684,000
116,000
Jul-Sep 2013
1,635,000
783,000
683,000
140,000
Oct-Dec 2013
1,719,000
807,000
731,000
150,000
Jan-Mar 2014
1,759,000
775,000
807,000
147,000
Apr-Jun 2014
1,847,000
787,000
866,000
158,000
Jul-Sep 2014
1,817,000
742,000
850,000
189,000
Transitional controls were imposed by some member states on nationals of Romania and Bulgaria - the poorest countries in the bloc - when they joined the EU in 2007.
Their rights to work and claim benefits were limited for the first seven years of EU membership.
Some in wealthier western EU nations feared mass migration from the two countries.
Last week a study suggested that immigrants from the 10 countries that joined the EU in 2004 - the so-called A10 nations - contributed more to the UK than they took out in benefits.
But the report produced by University College London also found that non-European immigrants had made a negative net fiscal contribution of £118bn between 1995 and 2011.