Litvinenko inquiry witnesses want broadcast ban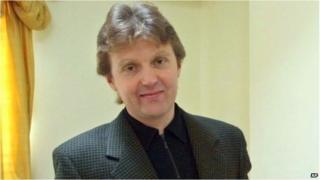 The public inquiry into the death of Alexander Litvinenko - due to start in January - should not be televised on the internet, Met Police lawyers said.
They told a hearing it was "not fanciful" for witnesses to fear "reprisals or revenge" from Russia.
The inquiry into the death of the former spy, poisoned in a London hotel in 2006 is due to begin on 27 January.
Some witnesses have objected to it being filmed - some are out of the country and the court's jurisdiction.
A lawyer representing the Metropolitan Police told the inquiry's chairman Sir Robert Owen it would be "wrong and unfair that witnesses should be avoidably subjected to fears arising from the giving of evidence".
'Rigorous safeguards'
Speaking at a pre-inquiry hearing at the Royal Courts of Justice in London, Richard Horwell QC said there were "compelling" reasons to ban video broadcasting.
He said: "We have a fundamental objection to the broadcast of these proceedings because we believe that there is a risk it will discourage co-operation and cause some witnesses not to attend, particularly those out of the jurisdiction."
Mr Horwell told Sir Robert: "This was a highly-organised and shocking execution and you have found that there is prima facie evidence of Russian State involvement.
"That is what the witnesses will no doubt have in mind when approaching this inquiry."
Neil Garnham QC, acting for the home secretary, also spoke at the hearing against broadcasting, referring to "concern" about "potential damage to national security".
But speaking for the media, Alex Bailin QC said broadcasting should be allowed in the interests of open justice, and could be done with "rigorous safeguards" in place.
Sir Robert will rule on the matter at a future date.
Mafia links
Mr Litvinenko, a former spy, had been an officer with the Federal Security Service, the successor to the KGB, but fled to Britain where he became a fierce critic of the Kremlin. Towards the end of his life, the 43-year-old also became a British citizen.
After he was killed by radioactive polonium-210, it emerged the father-of-one was being paid by the British secret service MI6.
It is alleged Mr Litvinenko was investigating Spanish links to the Russian mafia and had planned to fly to Spain with former agent Andrei Lugovoi - the main suspect for his murder.
At a central London hotel on 1 November 2006, he took tea with Mr Lugovoi and Dmitri Kovtun, who was also a former Russian agent.
Mr Litvinenko fell ill soon afterwards and died a short time later.
The public inquiry was formally opened in July after Mr Litvinenko's widow Marina led a successful challenge against holding an inquest into his death.
The government had previously resisted holding an inquiry, saying it would "wait and see" the findings of a judge-led inquest, but the High Court ruled the home secretary should reconsider the decision.