Rebekah Brooks a 'nightmare', Sun journalist claims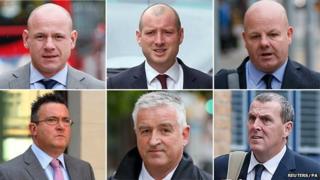 The head of news at the Sun has said working with former editor Rebekah Brooks was a "nightmare".
Chris Pharo, 45, is one of six men from the paper on trial accused of making illegal payments to public officials.
He told the court he was put under a "phenomenal" amount of pressure.
Judge Richard Marks QC has ordered the jury at Kingston Crown Court to clear the men of an "overarching" conspiracy but they are still charged with being involved in a number of "sub-plots".
He also instructed the jury to find Mr Pharo not guilty on a further charge he was facing.
The six men are accused of conspiring with police officers, prison officials and staff at Broadmoor secure hospital.
They all deny conspiring to commit misconduct in a public office.
Mrs Brooks was cleared in June of agreeing illegal payments.
She was found not guilty of two counts of conspiracy to pay public officials, two counts of conspiracy to pervert the course of justice and conspiracy to hack voicemails.
'Extremely unpleasant'
Mr Pharo said he was humiliated and threatened with dismissal by Mrs Brooks, his then editor known as Rebekah Wade.
The south London court heard she once sent an email to around 3,500 people at the company complaining that her "idiot news editor" could not find any stories.
Mr Pharo, of Sandhurst, Berkshire, told the court: "You have to meet Rebekah to understand how incredibly charming she is. When she wants to be."
But he added: "She was nothing short of a nightmare on occasions.
"When she was in a difficult or bad mood - which was very often, relatively speaking - I would receive 25 emails of an extremely unpleasant nature about what she had read in other newspapers and not in ours."
Mr Pharo now faces a total of four charges.
The court had previously heard he was involved in paying a soldier based at Sandhurst for a photograph of a fellow soldier who had been charged with manslaughter.
But Judge Marks said there was no case to answer because the commemorative photograph was not confidential and instructed the jury to clear him of the charge.
The other defendants charged with conspiring to commit misconduct in a public office are:
Former managing editor Graham Dudman, 51, of Brentwood, Essex - three counts
Former deputy news editor Ben O'Driscoll, 38, of Windsor, Berkshire - three counts
Picture editor John Edwards, 50, of Brentwood, Essex - two counts
Reporter Jamie Pyatt, 51, of Windsor, Berkshire - two counts
Former reporter John Troup, 49, of Saffron Walden, Essex - one count
The prosecution claims there was a "culture" at the newspaper of paying bribes to public officials for confidential information.
It is alleged the men intended to "steal a march" on competitors by paying contacts to obtain exclusive stories - rather than to serve the public interest.