Call for e-cigarette safety warnings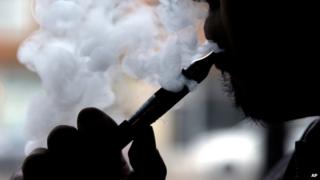 Safety messages should be displayed on electronic cigarette kits, fire bosses have said following a rise in incidents linked to the devices.
Figures obtained through Freedom of Information requests show e-cigarettes or related equipment, including chargers, were involved in more than 100 fires in less than two years.
The Local Government Association said more cases could be going unreported.
An LGA spokesman said the numbers were a "major cause for concern".
'Graphic warnings'
Data from 43 fire services across the UK shows they were called out to just eight incidents involving e-cigarettes in 2012.
In 2013, that number increased to 43, figures obtained by the Press Association show.
So far this year, fire services have been called to 62 such incidents.
A number of incidents have been attributed to the use of incompatible chargers for the devices.
In August, David Thomson, 62, was killed when an e-cigarette on charge exploded and ignited oxygen equipment he was believed to have been using.
Jeremy Hilton, chairman of the LGA's Fire Services Management Committee, said officials expected the number of incidents linked to e-cigarettes to continue rising as more smokers switched to them.
"Alarmingly, there is no way of knowing the true figure as we understand many cases are going unreported."
He added: "We are urging e-cigarette manufacturers to introduce clear, prominent and graphic new warnings spelling out to users the dangers of using incompatible chargers with e-cigarette batteries."
The LGA represents all 46 fire authorities in England and Wales.
Mr Hilton warned more deaths could follow if action was not taken.
"Tragically, at least one life has been claimed and more fatalities could follow unless this issue is addressed rigorously and robustly," he said.
"We are warning users that it is simply not worth risking their lives to save a few pounds by buying dodgy, dangerous or incompatible chargers."
Emma Apter, from the charity Electrical Safety First, said: "We are becoming increasingly concerned about the number of incidents involving e-cigarettes.
"Recent events have shown that the simple act of charging one of these items can be deadly, so steps do need to be taken in order to make consumers more aware of the dangers."
She added: "The advice is clear: do not use cheaper, unbranded chargers and do not leave e-cigarettes unattended whilst charging, especially overnight."