Some patients 'struggling to book with GP', watchdog says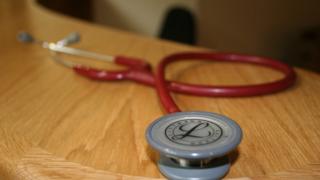 Too many patients are struggling to book GP appointments in England, the health watchdog has told the BBC.
Patients at one in six surgeries have problems booking appointments, the Care Quality Commission (CQC) said after an inspection of 336 practices.
The watchdog also raised concerns over variations in how serious incidents were reported and investigated.
Prof Steve Field, the CQC's chief inspector of GPs, said most practices offered safe and effective care.
"We believe that the vast majority of GP surgeries in England are providing good care for their patients but unfortunately the vast majority are being let down by a small minority and unfortunately, we have seen some examples in our pilot phase of some really poor care," he said.
"What I want is that all patients have access to really good care wherever they are and we will make sure that happens."
The CQC said some practices did not have robust and consistent systems for reporting incidents, or a culture of identifying where things had gone wrong and learning from them.
'Culture change'
The practices were inspected between April and September 2014.
They were pilots for a new inspection regime that came into force at the start of October and will involve nearly 8,000 practices being inspected by March 2016.
Under the new system, each surgery is given a rating of either outstanding, good, requires improvement or inadequate,
To date, inspectors have just had to report whether they were compliant with a set of core standards.
GP practices given an inadequate rating by the CQC will be given six months to improve. If they fail to move out of the bottom rating, they will be placed in special measures and given another six months.
Failure to improve while in special measures will lead to either the CQC withdrawing its registration or NHS England terminating its contract.
The CQC said the new regime reflected "a profound culture change" at the organisation.
A spokeswoman said: "We have moved away from a regulation-focused approach to a more holistic assessment of the quality of care by asking five key questions: Is a practice safe? Is it effective? Is it caring? Is it responsive to people's needs? And is it well-led?"
The inspection teams have also changed, comprising an expert inspector and a GP specialist adviser. Practice nurses and managers may be brought in to make the inspection more of a "peer-review process".
Dr Julie White is a GP in Irlam, Greater Manchester, whose surgery has just been rated as outstanding.
She told the BBC: "We're very traditional GPs, we have a traditional structure - a couple of nurses, a healthcare assistant, reception staff.
"We don't do anything particularly different to what you would expect in a practice. I think what we do do is we manage our patients quite well, we follow people up, we will have quite a lot of telephone contacts during the day, so we're quite accessible."
Dr Maureen Baker, chairwoman of the Royal College of General Practitioners, said the "vast majority of practices" were doing an "excellent job".
"Family doctors want to do their best for their patients but we are carrying out 340m consultations a year - 40m more than five years ago. Since 2010, the number of patients visiting their GP has risen by over 120,000 a day," she said.
"We also have a desperate shortage of GPs in many parts of the country, with many practices finding it difficult to replace doctors who are retiring.
"To ensure patients can get the level of service they deserve, we urgently need to recruit 8,000 more GPs by 2020."