'Plebgate' libel case: Police accused of 'web of lies'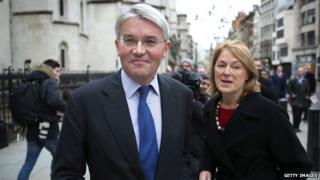 Police spun a "web of lies" that led to a "vitriolic" campaign against ex-chief whip Andrew Mitchell and his family, the High Court has heard.
Mr Mitchell resigned in 2012 in what became known as "plebgate", after the Sun said he had called officers plebs.
He is suing News Group Newspapers, with his lawyers arguing the police account of the incident was "wholly false".
The MP accepts that he swore when police refused to open a Downing Street gate for him to leave on his bicycle.
Also at the High Court in London, Mr Mitchell is being sued by one of the officers on duty at the time for comments he made following the incident.
Warning: The rest of this report includes explicit language
Giving evidence, the former cabinet minister apologised "unreservedly" for swearing but denied calling officers plebs, telling the judge: "My Lord, I did not say those words."
But in witness statements the court heard of Mr Mitchell's propensity for bad language and allegations he had previously insulted and sworn at officers.
Mr Mitchell said that on 19 September 2012 he had been in a rush to leave Downing Street where, as the MP in charge of government discipline, he had an office.
Police refused to open the vehicle gate - normally closed for security reasons - despite him pointing out he was the chief whip, Mr Mitchell told the court.
The Conservative MP for Sutton Coldfield denies losing his temper but says he swore and muttered under his breath that he thought police were supposed to "help us".
Mr Mitchell's legal team accept that he swore and was issued with a verbal warning by diplomatic protection officer PC Toby Rowland, who told the MP he would be arrested if it happened again.
Representing Mr Mitchell, James Price QC told the court one of the officers on duty had described the incident as a minor altercation that should not have been taken any further.
But it ended up as front page news, the court heard, when other officers - one of whom who had not been present at the gate - leaked the police account to the Sun.
'Extremely unpleasant'
The girlfriend of another officer was persuaded to tell the newspaper she was a passing tourist and had witnessed the incident, while another who was not present emailed Mr Mitchell's deputy chief whip, making a similar claim.
The tabloid reported that, in an expletive-laden exchange, Mr Mitchell told the officers on duty: "Best you learn your fucking place. You don't run this fucking government, you're fucking plebs."
Mr Price described the police accounts as "wholly false".
He said: "This web of lies, deceit and indiscipline... led to Mr Mitchell and his family being subjected to an extremely unpleasant, indeed vitriolic, press campaign and a good deal of hostility from the public who believed what they had read in the press."
The "lies brought Mr Mitchell down, destroying a political career of 27 years," he added.
PC Rowland is suing Mr Mitchell for statements the MP made in the media from December 2012 and in a press conference in November last year.
'Jekyll and Hyde'
The police officer's barrister, Desmond Browne QC, told the court Mr Mitchell was a "Mr Hyde and Dr Jekyll" character who mixed "charm and menace".
"The capacity for menace finds its outlet in both a foul temper and foul language," he said.
Mr Browne also said the MP had previously insulted another police officer in 2011, telling him: "That's a bit above your pay grade, Mr Plod."
It was possible a light-hearted exchange occurred, Mr Mitchell said, but he told the court he had no recollection of it.
The barrister also pointed to another alleged incident when Mr Mitchell is said to have told a police officer at an entrance to Westminster: "Stop being so aggressive, you little shit."
He was also accused of telling the officer: "I'm an MP and I'm too important to stop for you".
Mr Mitchell said he did not think he used the swear word attributed to him but knew "for absolutely certain" he would not say something about being too important.
The court heard in a witness statement from musician and campaigner Bob Geldof that Mr Mitchell was "no slouch" when it came to swearing, while a statement from Lord Coe referred to him using "fruity language".
At the end of the two-week trial, judge Mr Justice Mitting will rule on which claim of what was said at the Downing Street gates was substantially true.