Bob Geldof: Andrew Mitchell is a 'friend and good man'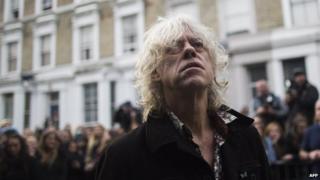 Bob Geldof has described himself as a "pleb" as he defended his friend, the ex-cabinet minister Andrew Mitchell.
The Irish musician submitted a written statement to the so-called "plebgate" libel trial in defence of Mr Mitchell.
In it, he said of the former chief whip: "I am... a pleb and he is not."
Mr Mitchell denies using the word and swearing at a police officer in September 2012 when he was prevented from leaving Downing Street on his bike via the main gates.
The altercation led to a front-page story in the Sun and a month later to Mr Mitchell's resignation from the government.
He is suing News Group Newspapers for libel, but is himself being sued for comments he made following the incident about one of the officers on duty.
In one of a series of written statements produced by Mr Mitchell's legal team, Geldof described the MP as an "advocate for the less fortunate" and a "good man".
"I came from a poor Irish, not particularly well educated background and he does not," he said.
"I am in fact 'a pleb' and he is not. Never once in all our time did he patronise me, talk down to me, behave in a superior manner to me, deride, insult or dismiss me or my opinions."
Geldof said he had never heard the Conservative MP "use the ridiculous and archaic expression 'pleb'".
'Disgusting and discourteous'
The court also heard written evidence from journalists, Mr Mitchell's political allies and the MP's decorator.
Richard Robinson recalled working on Mr Mitchell's Nottinghamshire property in 1998, writing: "When the job was coming to an end he put on a barbecue for all that had worked on the site.
"That's only happened to me twice in 49 years of working - he did not have to do that."
Newspaper columnist Matthew d'Ancona said class had been an issue for the coalition government and for one of its ministers to use the term "pleb" would have been damaging.
"I simply could not imagine him using such a disgusting and discourteous word," he added.
PC Toby Rowland, who was on duty at the time, told the court he had not known who Mr Mitchell was but had seen him having an argument with a fellow officer.
He had asked the MP not to swear, he said, adding that when Mr Mitchell left Downing Street the MP told him: "You haven't heard of the last of this."
PC Rowland added: "I warned him about his behaviour. He took this on board and stopped swearing."
The trial is being heard by a judge who will rule on the two claims in a fortnight.