Don't have nightmares - crime is down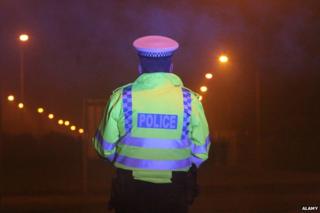 Recorded crime has always been an unsatisfactory way to measure crime trends and it is a mistake to think that improving recording practices will make it a more accurate indicator of whether particular crimes are rising or falling.
Despite the assertion today from Her Majesty's Inspectorate of Constabulary (HMIC) that police force crime data is an important factor in providing "as clear as possible a picture of the levels of crime", it does no such thing.
In many ways, it paints a wholly distorted portrait of crime levels. That's not because the police are behaving badly, but simply the nature of the beast.
If a police force decides to conduct a pre-Christmas drink-driving campaign, they will stop and breathalyse more motorists. It is likely they will identify more drivers under the influence of drink or drugs. Those incidents will see a spike in the number of drink-driving offences recorded.
But no-one imagines that the rise is because drink-driving is increasing. It is simply that more of that crime is being identified by police. These recorded figures are, therefore, more a measure of police activity than crime trends.
This can be seen with many offences. If police target knife crime, domestic violence, drugs or shop-lifting, it is probable that the number of recorded crimes will go up. But it doesn't mean that the scale of those crimes is getting worse. Indeed, these exercises are designed to reduce the number of offences and the number of victims.
The point is that there is far more crime than ever crosses the sergeant's desk. We know this because the Crime Survey for England and Wales (CSEW), asking large numbers of people about their actual experience of crime, reveals almost twice as many offences as show up in the recorded data - 7.1 million offences compared with 3.7 million recorded by police.
Since the police record many crimes that have no individual victim, (for instance drug offences, drink-driving, shop-lifting) the proportion of offences identified by the CSEW and recorded by police is well below half.
A large amount of crime goes unrecorded because victims don't tell the police. With some offences, forces have worked hard to encourage people to come forward. For example, with sexual assaults and domestic violence, the police have tried to give victims confidence that their stories will be taken seriously.
But the recent rises in the number of people reporting incidents of child abuse, for instance, does not mean those offences are necessarily increasing. Rather, a higher proportion of the vast number of offences is being reported and recorded by the police. The police figures are a very poor measure of real victimhood.
Another example of this concerns rape. An official Overview of Sexual Offending published last year estimated that, on average, 85,000 women are victims of rape or sexual assault by penetration each year in England and Wales. (Around 12,000 men are also thought to be victims).
However, the number of rapes recorded by police each year is about 16,000. Only 15% of women who told researchers they had been raped in the previous year said they had reported the matter to police.
The report notes that there was a 7% increase in recorded sexual offences between 2009/9 and 2010/11 but that the rise "may in part be due to greater encouragement by the police to victims to come forward and improvements in police recording, rather than an increase in the level of victimisation".
Once again, recorded police figures may tell us something important about the confidence of victims to report offences. Indeed, today's report says some forces could and should do even better. But the data are very little use in telling us whether a particular crime is rising or falling.
There's another important reason for avoiding police data when trying to understand crime trends: officers may, consciously or unconsciously, mis-record what they are being told. Indeed, sometimes they may not record a reported crime at all.
A mum comes to the police station with her six-year-old son who claims that another boy pushed him over in the playground. He has grazed his knee. Is this a crime that should be recorded as a violent assault?
A young man comes to the station desk to report his mobile phone has been stolen, but the officer recognises him and has good reason to think that this particular "victim" is actually just trying to get a better model on insurance. Is this a crime that should be immediately recorded as a theft?
A police officer, aware that there is a target to reduce the number of robberies in the area, is considering how to record a bag snatch in the high street. The victim says the culprit yanked her arm as he took the bag but, depending on the level of force, the offence could go down as a theft or a robbery. Which should it be?
For all these reasons, recorded crime is a very poor measure of real crime levels and it is, therefore, slightly disappointing that the HMIC should say there is "appreciable public concern that real crime levels are not truly represented in the statistics, particularly those recorded by police forces" without stressing this point.
It is equally disappointing that the shadow crime minister should use today's HMIC report to suggest the huge falls in crime Britain has seen in the last 20 years are somehow thrown into doubt. "This report," Labour's Jack Dromey says, "is the latest blow to the Home Secretary's repeated claims that crime is falling, when the reality is that almost one fifth of crime is simply not being recorded."
The big falls in crime are identified by a much better measure - the Crime Survey for England and Wales (CSEW), which asks tens of thousands of people each year about their actual experience of crime. That suggests that overall crime, both personal and domestic, has more than halved since the mid-90s.
It would be a tragedy if the consequence of today's report was to stoke the fear of crime at a time when the chances of being a victim are historically low.
UPDATE 14:30
I have been reminded that drink-driving is not a notifiable offence and so would not appear within the national crime figures. However, figures on drink-driving arrests are regularly published by the Association of Chief Police Officers and being in charge of a vehicle while over the limit can result in three months' imprisonment.