Occupy Parliament Square protest camp prevented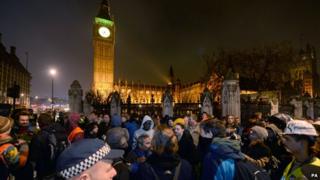 Activists from the Occupy London protest group have been stopped by police from setting up a camp on Parliament Square.
Members of the group had gathered for the start of a three-day demonstration.
The Metropolitan Police said organisers had not engaged with the force and used Public Order Act powers to order the demonstrators to remove masks.
In February 2012, Occupy members were evicted from outside St Paul's Cathedral after four months.
Under the Police Reform and Social Responsibility Act 2011, protesters are prohibited from setting up camp in Parliament Square. The law was introduced following a long-running anti-war protest in the square opposite the Houses of Parliament.
Last month there were a series of clashes with police in the square as Occupy supporters stayed there for nine days.
They said they were demonstrating in defence of civil liberties and the right to protest.
Occupy, which is part of a global protest movement, says on its website it is seeking a political and economic system that puts people, democracy and the environment before profit.
'Proportionate action'
About 100 Occupy protesters gathered in Parliament Square at about 18:00 GMT on Friday.
But on this occasion, its protesters were met by dozens of police officers and fencing around the square, preventing them from entering.
The ensuing stand-off caused disruption to traffic during Friday rush-hour and there were some scuffles with police, as officers moved the protesters on.
They later returned to Parliament Square and about 80 activists gathered on a pavement area outside the Supreme Court. About 30 pledged to stay there overnight.
John Sinha, one of the organisers of the Occupy movement, contended that the police "probably have no legality in enforcing" the blockade of Parliament Square.
The Metropolitan Police said it had put "an appropriate and proportionate police plan in place" for the event and the protesters were told they were banned from camping.
Protesters spent Friday night near Parliament Square outside the Supreme Court and said they planned to stay until Sunday evening.
At about 13:00 GMT on Saturday a sofa and a carpet were carried into the area, prompting chants of 'Whose sofa? Our sofa" and "Whose square? Our square".
About 45 demonstrators were still in the area on Saturday afternoon displaying banners and placards, and there was a heavy police presence around Parliament Square.
A Section 60 AA order, giving officers powers to force people to remove masks where they anticipated criminal activity, is set to remain in place until 14:00 GMT.
One person was arrested yesterday for criminal damage to the fence but was later released.
---
Have you been affected by recent events around Parliament Square? You can share your experience by emailing haveyoursay@bbc.co.uk If you are willing to be contacted by a BBC journalist, please leave a contact number.
Send your pictures and videos to yourpics@bbc.co.uk or text them to 61124 (UK) or +44 7624 800 100 (international). Or you can upload here.