101 and 111 non-emergency numbers restored after fault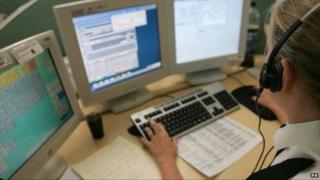 Non-emergency police and NHS phone lines are working again, Vodafone has said, after technical issues affected services for a number of hours.
Police forces across England, Wales and Scotland reported problems with 101 on Saturday morning, while the 111 NHS number also went down.
Vodafone, which operates both numbers, apologised and is investigating. It said the lines were fixed by 13:00 GMT.
Ofcom said it was investigating the problem "as a matter of urgency".
The telecoms watchdog said it was in contact with Vodafone "to fully understand the issues".
Motoring organisation RAC said its breakdown number also went down this morning after "Vodafone suffered a catastrophic failure to its telephone equipment" affecting "many large businesses" who use its services.
'Monitor lines'
The 101 phone number is for local police in England, Wales, Scotland and Northern Ireland, for less urgent matters than a 999 call. 111 is a 24-hour medical advice line, also for non-emergency enquiries.
Emergency calls to 999 were unaffected by the issue.
A spokesman for the Home Office, which oversees 101, said: "There was a technical problem affecting the 101 service this morning but we have worked with our supplier, Vodafone, to address this and can now confirm that this issue has been resolved."
Vodafone said it would continue to monitor the non-emergency lines closely, adding: "We apologise for any inconvenience caused."
NHS England said a national divert and back-up lines had ensured disruption to patients was "kept to a minimum."
The national backup meant many callers either received a voiced message giving them an alternative number or had been transferred to a national line, it said.
Others received an engaged tone, it said, adding: "The early assessment is that these procedures worked well."
RAC said it had been unable to receive calls from members between 04:00 GMT and 12:30.
"Our patrols spent this morning driving their busiest areas to help any motorists in difficulty," it said in a statement.
A spokesman added it had "caused significant problems" and it was "extremely frustrated" by the fault.