Prince William to visit China in 2015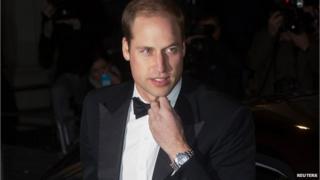 The Duke of Cambridge is to visit China early next year, the BBC understands.
The Chinese government has invited Prince William and his wife, the Duchess of Cambridge, to visit the country.
BBC royal correspondent Peter Hunt said it was "highly unlikely" the duchess, who will be heavily pregnant with the couple's second child, would attend.
The trip will be the prince's "most significant overseas tour" to date, our correspondent added.
The Queen visited the country in 1986, when Prince Philip controversially warned a group of British students: "If you stay here much longer you'll all be slitty-eyed."
---
Analysis
By Peter Hunt, royal correspondent, BBC News
This will be Prince William's most significant overseas visit. When the trip was being planned, the hope was that his wife would accompany him. But when it takes place the Duchess of Cambridge will be heavily pregnant and it's unlikely she'll now be part of a tour designed to strengthen Britain's relationship with China.
Prince William's presence in Beijing and elsewhere will highlight the fact that his father hasn't yet undertaken such a journey. Strenuous efforts have been made to prepare the ground for a tour by the next head of state.
Prince Charles has met a Chinese president in the UK and one of his architectural charities has a base in the Chinese capital. But the plans are hampered by his friendship with the Dalai Lama and recent history - including the prince's boycott of a banquet during a Chinese state visit. Prince William will board a plane next year unencumbered by such baggage.
---
Prince Charles has never visited the country.
He is friendly with the Dalai Lama, who is seen by China as a separatist threat.
Prince Charles referred to some Chinese officials as "appalling old waxworks" in a diary entry made after the Hong Kong handover and was accused of snubbing a state banquet in the UK in 1999.