Police officer 'baffled' by John Terry relatives' case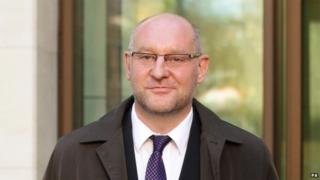 A policeman contacted The Sun about footballer John Terry's mother and mother-in-law being arrested as he could not understand why they were not charged, a court has heard.
The paper's chief foreign correspondent Nick Parker also told the Old Bailey he was "incredulous" Susan Terry and Susan Poole were cautioned for shoplifting.
The women were arrested for stealing £1,450-worth of goods in 2009.
Mr Parker denies aiding and abetting misconduct in public office.
'Set record straight'
Police officer Alan Tierney emailed the newspaper about the incident in March 2009, in which the two women were caught with clothes and food from Marks and Spencer and Tesco at Brooklands shopping centre in Weybridge, Surrey.
Mr Parker told jurors his main aim as a journalist was to "seek out the truth and focus very squarely on the public interest".
He said sources should be "protected at all costs" and that was "enshrined" by the Press Complaints Commission.
Mr Parker said he researched the front-page story after a tip-off from an anonymous source he refused to name but who was not a public officer.
He went on to try to stand the story up with the Surrey Police press office and contacted Mr Terry's lawyer to give him the opportunity to comment, the journalist told the court.
Mr Parker said: "I was incredulous as to why they had not been charged with theft offences because I just did not understand it. I had covered lots of stories where for far less, people were prosecuted and jailed."
Mr Tierney contacted the Sun after the first story was published to highlight that the value of the goods was in fact more than the £800 previously thought.
Mr Parker told the jury: "He [Mr Tierney] wanted to set the record straight [about] the money, and to point out they were laughing and did not show any remorse.
"Also they were only cautioned. He said to me he could not understand it. He said that normally anything over £200 you would be prosecuted."
Stolen phone
The court has heard that Mr Tierney has pleaded guilty to criminality in relation to a follow-up story on the shoplifting incident and another one about Rolling Stone Ronnie Wood.
Earlier, Mr Parker told the court how the newsdesk of The Sun would make every practical decision at the newspaper and as a reporter "you cannot move without talking to the newsdesk".
Mr Parker is also accused of paying a prison officer for stories and keeping MP Siobhain McDonagh's stolen phone overnight to check out its contents.
He is on trial at the Old Bailey with prison officer Lee Brockhouse and Michael Ankers.
Mr Parker, 53, of Twickenham, south-west London, denies three counts of aiding and abetting misconduct in public office, one count of handling stolen goods, and one of securing unauthorised access to computer material.
Mr Brockhouse, 44, of Sittingbourne, Kent, denies two counts of misconduct in public office.
Mr Ankers, 30, of no fixed abode, denies theft and handling stolen goods, relating to the mobile phone.
The trial continues.