Police seek commuters' help to fight terror threat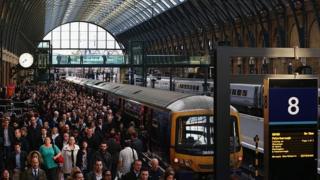 Public transport users should stay alert to help thwart terror attacks, a police chief has said.
British Transport Police Chief Constable Paul Crowther warned that commuters who make the same journey repeatedly can become "oblivious to their surroundings".
He called on passengers to have the confidence to report anything they see as suspicious or out-of-place.
Police forces are taking part in a counter-terrorism awareness week.
Mr Crowther highlighted the case of Andreas Pierides, who was arrested earlier this year after another passenger on his train saw him reading material which appeared to include bomb-making instructions.
She reported her concerns and police used CCTV to track him to the station where he bought his ticket.
He was later arrested at Stansted Airport attempting to fly out of the country, and received an 18-month suspended sentence for taking explosive flares on to a plane at a UK airport and possessing a terrorist manual.
Mr Crowther said: "This [Pierides' conviction] was a direct result of a rail passenger reporting suspicions to train staff.
"We need others to follow suit and play their part in keeping the UK's transport systems safe from terrorists."
The British Transport Police monitor stations and trains with a range of specialist teams, including units dedicated to assessing suspect packages, officers trained in identifying suspicious behaviour and trained police dogs.
Police are raising awareness of their efforts to protect transport networks by holding events and speaking to members of the country at busy interchanges across the UK.
Mick Cash, general secretary of transport union RMT, described transport workers as "the eyes and ears of the commuter transport system" and said it was "ludicrous" for the government and the transport companies to seek to cut staff numbers at this time.
'Be vigilant'
On Monday, Home Secretary Theresa May unveiled a package of new security measures, including the power to block suspected foreign fighters from returning to the UK and to relocate terror suspects across the country.
Airlines will have to comply with stricter rules about handing over passenger data to the authorities.
Also speaking on Monday, Andy Ward, Assistant Chief Constable of Merseyside Police, drew attention to the role of those who work and travel along the UK coastline.
"Security at airports, train stations, ports and other transport hubs has been increased but we want people to be vigilant and report potential threats," he said in a talk at Liverpool Docks.
Several hundred people are believed to have travelled to Syria so far this year to fight alongside Islamic State.
Police at ports and airports are working to stop those attempting to travel with the intention of engaging in or promoting terrorism.