MI5 'set for criticism' over Lee Rigby murder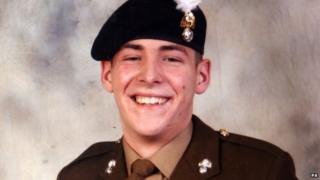 A report into the killing of Fusilier Lee Rigby is set to criticise MI5 over its monitoring of one of the killers, BBC Newsnight has reported.
But the inquiry by Parliament's Intelligence and Security Committee is expected to add that the security service could not have prevented his death.
The results are due to be published on Tuesday.
The soldier was killed near Woolwich Barracks in London on 22 May 2013.
Michael Adebolajo was sentenced in February to a whole-life term and Michael Adebowale was jailed for a minimum of 45 years for the killing.
In its findings, the committee will set out specifically what MI5 knew about Adebolajo and Adebowale prior to the attack.
Prime Minister David Cameron asked the committee to carry out the investigation following the 25-year-old's death.
Newsnight's investigations correspondent Nick Hopkins said: "I think it is pretty clear this report will clear MI5 of having intelligence that could have prevented Lee Rigby's death.
"But there is a significant issue here, which is should MI5 have given greater priority and greater scrutiny to these two men in the run up to Lee Rigby's death?"
The findings show that MI5 had at one stage tried to recruit one of Lee Rigby's killers because of his "familiarity with jihadi circles", he told BBC Newsnight.
He said MI5 had already accepted some of the recommendations made by the committee and changed some of its practices.
The committee's findings are set to be published the day after a warning by the Home Secretary Theresa May about the level of terrorist threat the country faces, and the day before new counter-terrorism powers are published.
Adebolajo, and Adebowale - who were 29 and 22 years old respectively when sentenced - drove into Fusilier Rigby with a car before hacking him to death.