Gangster 'Mad' Frankie Fraser dies at 90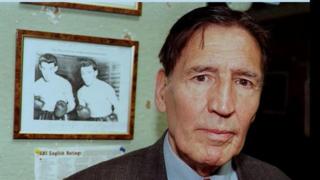 The criminal and former associate of the Kray twins, "Mad" Frankie Fraser, has died aged 90 in a London hospital.
He was known as an "enforcer", meting out violence on behalf of the Krays and the Richardson gang in the 1960s.
His death was confirmed by Eddie Richardson who, with brother Charlie, formed the infamous London crime gang.
By the time he left prison for the final time in 1989, Fraser had served a total of 42 years for a range of offences.
More recently he established himself as a TV personality and published an autobiography.
He became critically ill on Saturday after undergoing surgery on his left leg at King's College Hospital in south London.
Fraser was born in the Elephant and Castle area of south London in 1923. He was first sent to a borstal - a type of secure institution for young offenders - at the age of 13.
He was birched at 17 for attacking a prison officer - the first of many experiences of corporal punishment, usually for attacking jail staff.
His various prison sentences included three spells in Broadmoor after being classified insane.
He was closely associated with the Richardson gang which carried out racketeering and fraud across south London in the 1960s.
'The dentist'
Fraser's methods of torturing the gang's victims earned him the nicknames "Mad Frankie" and "The Dentist" - he was reputed to pull out people's teeth with pliers.
At the Richardson gang "torture" trial at the Old Bailey in 1967 he was jailed for 10 years. Two years later a further five years was added for leading a riot at Parkhust Prison.
In 1975 he assaulted three prison officers, one of whom he attempted to hang.
After completing another sentence in 1989, Fraser tried to build a career as a celebrity, appearing on television chat shows, acting as a consultant on crime and taking a stage show to the Edinburgh Fringe Festival.
In 1997, he was called as a character witness at the trial of Charlie Kray on drugs charges.
Last year he was reported to have received an Asbo following an argument over a chair in the care home where he lived.