'Plebgate' libel trial: 'Powerful evidence'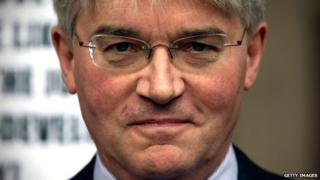 The QC for former chief whip Andrew Mitchell in the so-called plebgate trial has said there was "powerful evidence" the MP did not use the term.
James Price made the point during the closing speeches of the case.
But the QC for the policeman involved - who is suing Mr Mitchell - said the MP gave a "warped" image of the affair.
Mr Mitchell is suing News Group Newspapers over claims he called PC Toby Rowland a "pleb" in 2012. There will be a judgement on Thursday.
Mr Price told Mr Justice Mitting that the 58-year-old MP gave a clear account of his altercation with PC Toby Rowland the day after the incident, which had not changed in the face of mounting claims from police officers.
Mr Price said that although the trial involved 26 witnesses, it came down to what was said during a 15-second exchange between two people, which was heard by only them.
---
Analysis by Danny Shaw, BBC home affairs correspondent
The key issue in this case is whether Andrew Mitchell did accuse police of being "plebs" - a word described by the judge as "politically toxic".
James Price QC, representing Mr Mitchell, said there was "powerful evidence" that he hadn't used the term.
But Desmond Browne QC, who acts for the policeman involved in the dispute, said Mr Mitchell had presented a "warped" image of the affair, by alleging officers had conspired against him.
The case is finely balanced - but the stakes for Andrew Mitchell and the police couldn't be higher.
---
He claimed that Mr Mitchell's consistency about what happened on that day was "powerful evidence" in his favour, backed by many unchallenged statements that he was not a "superior snob".
It was not surprising that, from time to time, Mr Mitchell became frustrated by what appeared to be an inconsistent cycle policy in Downing Street, Mr Price said.
Representing PC Rowland, Desmond Browne QC accused the MP of trying "to create a storm to blind the world" to the way he behaved.
He added that the court was concerned with Mr Mitchell's ability to turn from Dr Jekyll into Mr Hyde.
Gavin Millar QC for News Group Newspapers said it was "highly unlikely" that PC Rowland or other officers would have invented the phrases.
"It seems much more likely that, if they had been intent on doing that, they would have invented more vehement swear words, more aggression, personal insults and possibly more threatening words", he said.
The hearing was adjourned until 2pm on Thursday when the judge will give his ruling.