Police 'falling behind' on child abuse and cybercrime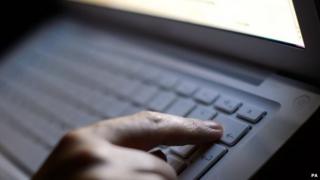 Police in England and Wales are "falling behind the curve of rapidly changing criminality", Chief Inspector of Constabulary Tom Winsor says.
His annual State of Policing report says forces are "policing the crimes of today with the methods of yesterday".
It says forces are "performing well in many respects" but must "adapt" to improve the way they handle issues such as child sex abuse and cybercrime.
The Police Federation says officers are "struggling" because of funding cuts.
In his report, Mr Winsor says police officers are "dedicated and brave" but warns that the "force that many of them joined bears little resemblance to the force that is required now and in the future".
"Unreported crime such as cybercrime and crimes against vulnerable people, the most disturbing of which is child sexual exploitation, is not an emerging threat: it is here now," he says.
He adds "cultural and institutional barriers" have "hampered" the way forces respond to these crimes, and "every officer" must understand computer-based offences.
Skill 'deficit'
Inspectors assessed the 43 forces in England and Wales and rated most "good" in areas such as preventing crime, tackling anti-social behaviour and providing value for money.
But the report says 18 forces need to improve the way they investigate crime.
These are Bedfordshire, Dorset, Essex, Gloucestershire, Greater Manchester, Gwent, Humberside, Lincolnshire, Metropolitan Police, Northamptonshire, North Wales, North Yorkshire, Nottinghamshire, South Yorkshire, Staffordshire, Surrey, Sussex and West Yorkshire.
"Investigations for some crimes such as burglary and assault are not of the standard expected or required," the report says.
"The quality of initial investigations is below that which the public can reasonably expect, because of a deficit in the skill and experience of the investigating officers, and a lack of appropriate supervision."
Federation warning
Labour's shadow policing minister Jack Dromey said the government "cannot expect to cut 16,000 police officers and still deliver the highest standards of policing".
He also said Home Secretary Theresa May had "ignored" calls to tackle the "rising wave of cybercrime - from fraud to the grooming of children".
Steve White, chairman of the Police Federation of England and Wales, which represents officers up to the rank of chief inspector, said: "We have been warning there are issues around what the service can provide against cuts to funding and police numbers.
"Although we are pleased that the majority of forces are performing well, we know that officers are struggling to provide the service they believe the public deserve."