Church education chief: Terror bill is 'step too far' for Ofsted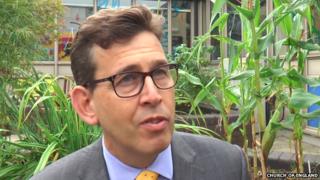 Plans that require schools to help prevent pupils becoming radicalised place too much of a burden on education regulator Ofsted, the chief Church of England education officer has said.
The Rev Nigel Genders said asking Ofsted to become a "schoolroom security service" was "a step too far".
He said the regulator would be acting out a remit it was never designed for.
The anti-radicalisation measures for schools were set out in the counter-terrorism bill on Wednesday.
Home Secretary Theresa May's new bill also stated that universities and councils should play their part in averting people from extremist thoughts and beliefs.
'Terrorism experts'
But in his blog published on the Church of England's website Mr Genders wrote: " In order to ensure that all schools are giving young people a good start in life, Ofsted should focus on the breadth and quality of education provision.
"Whilst Ofsted works out how it measures "British Values" and schools wonder how they might be downgraded for failing to promote them, asking Ofsted to become the schoolroom security service is a step too far.
"As a country we have access to both counter-terrorism experts and educational professionals. Suggesting these groups swap roles in an attempt to build a safer society needs more thought."
Allowing Ofsted to "police" new statutory duties about what it deems as extremism will dramatically change the role of the regulator, and risk turning it into a "blunt instrument whose reports risk undermining all the fantastic work a school is doing to educationally transform its community", he added.
"For many schools there are serious and far reaching questions that need to be asked in relation to the role of Ofsted in "policing" and enforcing the new statutory duties proposed under the bill."
'Expresses the worries'
The bill was introduced to Parliament on Wednesday and is due for a second reading by MPs in December.
Last week, the Sir John Cass's Foundation and Red Coat Church of England Secondary School was downgraded from outstanding to the regulator's lowest rating of "inadequate", mainly because of activity on social-networking site Facebook by sixth formers linked to extremist material, and existing segregation between boys and girls in school areas.
The BBC's religious affairs correspondent Caroline Wyatt said: "The Reverend Nigel Genders' blog expresses the worries felt by many faith schools in the wake of recent Ofsted inspections, and the new statutory duty on colleges and schools to prevent individuals being drawn into terrorism.
"Mr Genders makes clear that Church of England schools are committed to helping stop youngsters being drawn into extremism, but if schools are going to be held to account they need very clear advice about how to do that."
The UK's terror threat level remains "severe" after it was upped from "substantial" earlier this year in response to conflicts in Iraq and Syria.