Sara Thornton to lead National Police Chiefs' Council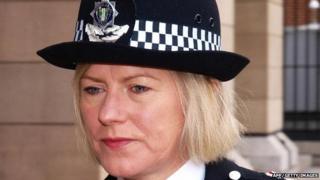 The chief constable of Thames Valley Police has been appointed the chair of the National Police Chiefs' Council (NPCC), a newly created association representing senior police officers.
Sara Thornton will head the body which is replacing the Association of Chief Police Officers (Acpo).
Starting in April 2015, she will effectively replace Sir Hugh Orde, who is standing down as president of Acpo.
Ms Thornton said her new role would be a "privilege and challenge".
She said: "I look forward to leading the new body and doing all that I can to protect the public and build confidence in policing."
Ms Thornton is currently vice-president of Acpo and will leave Thames Valley Police "with a heavy heart" after 14 years.
The NPCC, which will co-ordinate operational policing at national levels, is being set up following an independent review, led by retired general Sir Nick Parker, which recommended an overhaul of Acpo.
Acpo brings together top officers in England, Wales and Northern Ireland and is funded mostly by Police and Crime Commissioners.
Sir Hugh said: "I am delighted that Sara will take on this vital leadership role. I wish her all the very best."