Firefighters to hold fresh 24-hour strike over pensions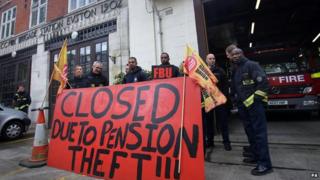 Firefighters in England are to stage a 24-hour strike on 9 December as part of their long-running pensions row with the government.
It is the 48th period of industrial action by members of the Fire Brigades Union since the dispute began in 2013.
The FBU says the walkouts stem from proposals to have firefighters work until they are 60 instead of 55 and fears over lower pensions.
The government has said its contingency plans are "robust".
It has said ministers did make "progress" on issues of concern to firefighters and put forward a revised offer.
The FBU said the proposals will also see firefighters pay more into their pensions and leave them at risk of dismissal as fitness levels decline into their 50s.
The union's general secretary, Matt Wrack, said: "Firefighters in England are reluctantly calling further strike action today as a direct result of the Westminster government's failure to listen and negotiate over pensions.
"Firefighters are asking the Westminster government to immediately open genuine negotiations to resolve this dispute. They should also hold a House of Commons debate to fully scrutinise the legislation and there should be a parliamentary vote on the regulations.
"Firefighters will fight for however long it takes to secure a fair pensions deal - this dispute will not end as long as the regulations remain unchanged."
The last strike action, lasting four-days, took place in November. The walkout on 9 December will begin at 09:00 GMT.
The industrial action has seen fire authorities hire contractors to cover for striking FBU members.