Anti-terror police arrest five men in Dover and east London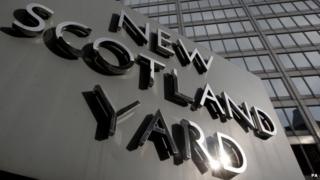 Five men have been arrested in Dover and east London on suspicion of planning acts of terrorism, Scotland Yard has said.
Two were held as they tried to leave the UK at Dover port on Sunday, where 14 people were also arrested on suspicion of immigration offences.
Two men were arrested in east London at about 03:45 GMT on Monday, and another was held in Dover at about 08:30.
Police said the operation was "not in response to any immediate threat".
The terrorism arrests were made "on suspicion of commission, preparation or instigation" of terrorist acts.
BBC home affairs correspondent Danny Shaw said the offences were thought to relate to Syria - not to plans for an attack in the UK.
'Outbound at Dover'
"Four addresses in east London and one in south London are being searched today as part of the investigation," Scotland Yard said.
It said the men were arrested by officers from the Metropolitan Police Counter Terrorism Command (SO15), with Sunday's arrests assisted by the Met's Specialist Firearms Command and Kent Police.
It said a vehicle "going outbound at Dover port" was stopped at about 23:30 on Sunday under the Terrorism Act 2000.
Two men, aged 33 and 43, were arrested for suspected terrorism offences.
The 14 immigration arrests were of people travelling in the same vehicle - a man, 37, held on suspicion of people trafficking, and 12 men and one woman arrested for suspected "immigration offences".
The men arrested on Monday morning in east London are aged 24 and 40, while the man later held in Dover is 28.
The terrorism and people trafficking suspects are all being held in central London police stations.