Terrorism bill: Police 'back bail for some suspects'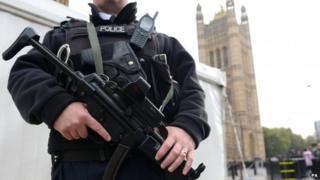 A government adviser says he has "rarely met" a police officer who does not agree with him that some terrorism suspects should be released on bail.
David Anderson QC, Independent Reviewer of Terrorism Legislation, said bail with "strict conditions" could give police time to "build a case".
But he said he had never met a politician who supported the idea.
He was speaking to the Home Affairs Committee about anti-terror legislation introduced in Parliament last week.
Mr Anderson said he had "repeatedly" recommended that police bail should be "available" in terrorism cases.
"I have never met a politician who was at all enthusiastic about the idea because it carries connotations of dangerous terrorists running free, but I have rarely met a police officer who didn't think it was a good idea," he said.
Terrorism suspects can currently be held for 14 days without charge in the UK.
Mr Anderson said this time limit meant police had to act "extremely quickly in what can be sometimes a very technical case with terabytes of documents and witnesses all over the world".
"If you allow police bail, and police bail can of course be under extremely strict conditions, it's a way of giving yourself a little more time," he said.
He added that the Counter-Terrorism and Security Bill put forward by the government would give authorities "a couple of reasonably useful extra powers".
He said these were "temporary exclusion orders" to stop people suspected of fighting overseas entering the UK unless they agreed to strict controls, and powers to take passports from people planning to travel to fight.
But Shami Chakrabarti, of human rights organisation Liberty, said UK citizens should not be denied entry to the country "whether they are suspect, innocent or guilty".
"We have to take responsibility for our nationals," she said.
Speaking about bail for terrorism suspects, she said: "Even if you arrest them and you let them go for a limited period you can take their passport, you can make them subject to reporting conditions, but you have brought it within the proper discipline of the criminal justice system."
Ms Chakrabarti said Liberty had been "completely unconsulted for rather a long time by the coalition government on any aspect of this policy" - the "first time in some years that a government of any persuasion" had not consulted Liberty on such legislation.