Syria terror training Briton jailed for four years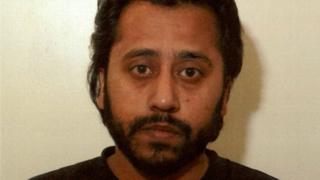 The first British man to be convicted of preparing for acts of terrorism in Syria has been jailed for four years.
Mashudur Choudhury was convicted in May after leaving the UK to receive terrorism training.
He was one of a group of six men from Portsmouth who are known to have gone to fight in Syria. Four of them have been killed.
Choudhury also faces 10 years of monitoring under terrorism legislation.
The 31-year-old was charged after he returned to the UK in October last year.
He was one of the first men in the country to have been publicly identified as having come back from the war zone.
It remains unclear why the father-of-two returned. But three of the four he travelled with from Gatwick Airport - Mehdi Hassan, Muhammad Hamidur Rahman and Mamunur Mohammd Roshid - are now dead.
'Harsh reality'
Their key contact in Syria was another Portsmouth man, Iftehkar Jaman. He was one of the first Britons to reveal he had gone to the region earlier in 2013. He spoke and wrote publicly online about joining Islamic State.
Jaman became a pivotal figure in encouraging others around the UK to join him, before he died in unclear circumstances shortly after Choudhury's return.
Sentencing, Judge Paul Dodgson said Choudhury was either rejected by the fighters he met or fled when his "fantasies clashed with the harsh reality" of Syria.
The judge said that Choudhury's case did not warrant an extended sentence because he was unlikely to remain dangerous after leaving prison.
Multiple personalities
Choudhury will serve half his sentence in prison and the rest in the community.
During his trial, Choudhury had claimed that he never intended to fight, but was looking for an opportunity to move his family abroad.
He told the court he believed he had failed his wife after the collapse of a business venture.
The trial also heard how he constructed a series of lies to make people feel sorry for him, including pretending to have stomach cancer.
His sister-in-law funded medical treatment for him in Singapore, where Choudhury is said to have hung around in Starbucks and had sought out prostitutes.
Choudhury had told the court he was now "utterly ashamed and embarrassed" by his lies.
And he claimed to be considering a "hijra" - what he saw as a ritualised migration to a Muslim country - to get escape his past life, which is where Syria came into the picture.
However Choudhury's wife, Toslima Akhtar, portrayed him as a useless fantasist who was incapable of joining the Syrian cause.
Jurors were also told Choudhury created multiple online personalities. Prosecutors said the accounts written in the style of mujahideen warriors revealed his real intentions.
Tougher laws
The terror threat level in the UK was raised from substantial to severe a few months ago amid increasing concerns over British jihadists travelling to Iraq and Syria to take part in activities related to terrorism.
A Counter-Terrorism and Security Bill was introduced to Parliament last month, containing powers that include new orders to temporarily exclude suspected British fighters from returning to the UK.
Last month two brothers became the first Britons to be jailed for terrorism training in Syria.
Mohommod Nawaz, 30, and Hamza Nawaz, 24, both from Stratford, east London, were sentenced to four-and-a-half years and three years respectively.