'Going shopping is a nightmare for me'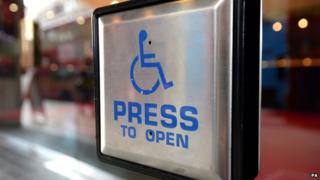 Researchers have found evidence of widespread failure by UK shops and restaurants to cater for disabled customers. Accessibility information providers DisabledGo visited more than 30,000 premises and say a fifth of High Street businesses are inaccessible to wheelchair users and two thirds of retail staff have no training in how to help disabled customers.
At least two BBC News website readers with experiences of running businesses have suggested they have run into difficulties in making their premises more accessible to disabled people because of inflexible council planning laws.
But what kind of day-to-day experiences do disabled people actually have?
John, 52, from Derby, describes coming across lifts that can accommodate his wheelchair but where access is blocked by boxes of stock.
He also talks of the difficulties in struggling past in-store railings and reaching counters and changing rooms, even if he is using his walking sticks.
"Going shopping is a nightmare for me," he says.
"Shops that have a men's department will have it upstairs even in new build shopping arcades. When I remonstrate with the managers they say 'Just ask and we will bring whatever you want'. How do I know what stock they have until I have seen it?"
"I do a lot more shopping now online, but... sometimes you just want to go into town to be sociable."
The findings of DisabledGo are also not a surprise to Kim Cordell and his wife Selma from Pinner in north-west London, whose 24-year-old daughter uses a motorised wheelchair.
They say almost every week they come across examples of businesses who appear to be flouting the law on disabled access, many in central London.
Public attitudes
"It's just, just outrageous," says Mr Cordell. "But more often than not you just give up and go to other shops or restaurants. I don't think we have ever been out without some incident or other."
He adds: "Whenever we have tried to make an issue in a shop we have been looked at as if our complaints are highly misguided or with a look of pity."
The family say they have made attempts to complain to local authorities about shops or restaurants, but have not seen even once that their efforts resulted in improvements being made.
Mr Cordell suggests "there is a combination of unwillingness and ignorance" that makes central London in particular "very unfriendly" towards wheelchair users.
Portable ramps are a low-cost way of providing access but many shops do not have them, while some businesses are "theoretically accessible" but particularly difficult for powered wheelchairs to enter, he says.
Even where efforts have been made to accommodate disabled people, Mr and Mrs Cordell are able to cite specific problems.
These include disabled toilets in restaurants which do not actually have wheelchair access, and theatres which require disabled people to transfer to seating rather than provide spaces for their wheelchairs.
Mr Cordell contends that current laws are not powerful enough.
"In that sense it is representative of the public attitude that the environment is a bit 'inconvenient' for wheelchair users. In fact, for many wheelchair users, many parts of the environment are utterly impossible to access."