Defence staff begin 10-day strike over pay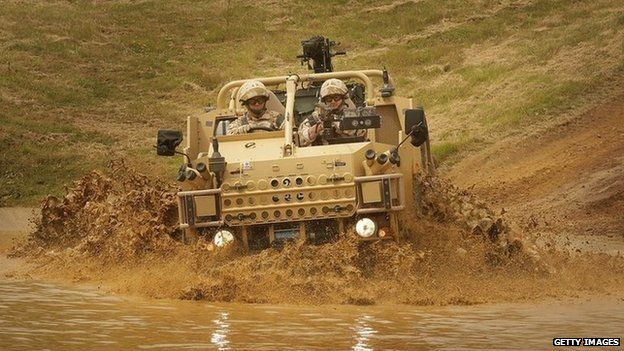 Defence workers are carrying out a 10-day strike over pay, the latest in a series of industrial action.
Members of Unite at the Defence Support Group (DSG) will walk out on Monday in protest at a 1% pay offer.
The group maintains, repairs and overhauls military equipment for the Ministry of Defence (MoD).
Mike McCartney, Unite national officer, said DSG was "cash-rich" and called for them to resume negotiations for a "fair pay deal".
The MoD said the strikes would not affect current military operations.
Six days of strike action have taken place in recent weeks over the same dispute.
The main sites affected for this round of strikes are at Bovington in Dorset, Catterick in North Yorkshire, Colchester, Donnington in Shropshire, Stirling, Sealand in North Wales and Warminster Wiltshire.
Mr McCartney said: "As the DSG is fattened up to be privatised, workers who support our armed forces have had pay cuts in real terms of nearly 18%.
"The DSG is a cash-rich organisation which can well afford a decent pay rise.
"Management should be under no illusion about the resolve of our members as this latest action, which is the longest in the group's history, demonstrates.
"Any backlogs in repairs and maintenance of key military equipment sit squarely with DSG management who need to get back around the negotiating table to hammer out a fair pay deal."
An MoD spokesperson said: "It is disappointing that Unite is pressing ahead with strike action over a proposed 1% pay rise, which is in line with the offer to the wider civil service.
"The public can rest assured this industrial action will have no impact on ongoing military operations or capability."
Related Internet Links
The BBC is not responsible for the content of external sites.