Egypt: British embassy suspends services for security reasons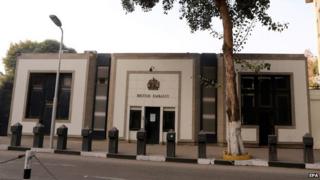 The British embassy in Cairo has suspended public services for security reasons, the Foreign Office has confirmed.
A spokeswoman would not confirm the nature of the security issue, but said staff were working with Egyptian officials to enable work to resume.
The British Consulate-General in Alexandria is operating as normal, the Foreign Office website said.
Alternative arrangements are in place for some embassy services.
They can be viewed on the Foreign Office website.
'Heightened threat'
Members of the public are urged not to visit the embassy, which was also closed in 2013 during the protests that saw President Mohamed Morsi ousted.
In its travel advice for Egypt, the Foreign Office urges vigilance.
It says there is a "heightened threat of terrorist attacks globally against UK interests and British nationals from groups or individuals motivated by the conflict in Iraq and Syria."
It adds: "Terrorists continue to plan attacks in Egypt. Attacks could be indiscriminate and occur without prior warning.
"Foreigners could be targeted in tourist resorts or other locations frequented by foreigners. Previous attacks have almost exclusively targeted the security forces, their facilities and other government buildings.
"You should take great care near these places."