Counter-terrorism police charge man, 28, over 'fraud'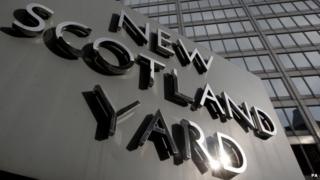 Officers from the Met Police's counter-terrorism unit have charged a 28-year-old man with alleged fraud offences.
Muhammed Saleem of Abbey Wood in south-east London is due to appear before Westminster Magistrates' Court on Monday.
He has been accused with possessing or controlling an article for use in fraud, police said.
He was arrested on Saturday alongside a man and woman, aged 33 and 30 respectively, who remain in custody.
A search of an address in east London continues, police said.
Officers have made several arrests following a series of raids across the UK in the past week.
Raids in London on Thursday led to a 33-year-old man being arrested on suspicion of being concerned in the commission, preparation or instigation of acts of terrorism, and a 40-year-old man arrested on suspicion of conspiracy to possess and supply fraudulent documents.
Terror threat
The 33-year-old remains in custody, after a custody extension was granted until 11 December, while the 40-year-old has been bailed until January next year.
Meanwhile, officers are continuing to question five men arrested in a swoop at the port of Dover. The police have until 14 December to question them after warrants for their extended detention were granted by a magistrate.
Two men, aged 33 and 43, were arrested in Dover last Sunday after Scotland Yard officers and Kent Police stopped a car going outbound at the port.
A 28-year-old man was arrested in the same area on Monday morning, and under the same operation, two men aged 24 and 40 were arrested on Monday in east London.
Police said that searches linked to the arrests of these five men at residential addresses in London and two in north Wales had now been completed.
The terror threat level in the UK was raised from substantial to severe in August.
Fears of a terrorist attack on the UK have been heightened in the wake of the rise of Islamic State (IS), the extremist group that has taken over large swathes of Iraq and Syria.