Sun journalist Nick Parker cleared of misconduct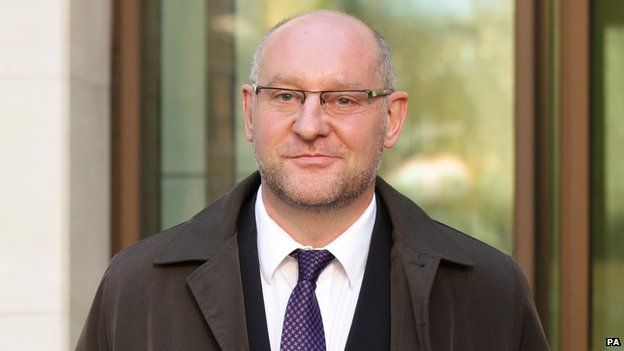 A Sun reporter has been cleared of aiding and abetting misconduct in a public office, but convicted of handling an MP's stolen mobile phone.
Jurors cleared Nick Parker, 53, of helping Surrey Police officer Alan Tierney commit misconduct.
Tierney contacted Parker with stories about England footballer John Terry's family and Rolling Stone Ronnie Wood.
Parker was convicted of handling the MP Siobhain McDonagh's mobile phone and given a three-month suspended sentence.
Jurors were told he read private texts, some of which referred to David and Ed Miliband's Labour leadership battle.
The jury deliberated for nearly 20 hours before reaching unanimous verdicts.
Parker was found guilty along with college student Michael Ankers, 30, who tried to sell the contents of Ms McDonagh's phone to the newspaper and was convicted of theft.
The charge of aiding and abetting Tierney to commit misconduct in a public office, on which Parker was cleared, had related to an approach by the police officer with a follow-up tip about Mr Terry's mother and mother-in-law being cautioned for shoplifting and a story involving Ronnie Wood's caution for assault after an incident with his then-girlfriend.
The Sun's chief foreign correspondent was convicted of one count of handling stolen goods.
He had agreed a holding contract of £10,000 to see messages on the stolen phone, the trial was told.
But he abandoned the story after no evidence of criminal activity was found in relation to a text about bribery, jurors were told.
He justified looking at the contents of the phone because he had been told there was evidence of "criminality" on it.
He told jurors: "Journalists are obliged to work in a grey area sometimes. They are obliged to take risks.
"I was sent to work on that phone. It's run by lawyers, it's run by news desk, senior managers. They sent me. I do not accept I acted unlawfully at all."
The bribery message turned out to be "obviously a joke", he added.
Parker, of Twickenham, south-west London, told jurors his main aim as a journalist was to "seek out the truth and focus very squarely on the public interest."
But Judge Paul Worsley sentenced him to three months in jail, suspended for 12 months, and ordered him to pay £7,500 costs.
The judge said: "You over-stepped the line between investigate journalism and breaking the law."