UK flight chaos: Independent inquiry set up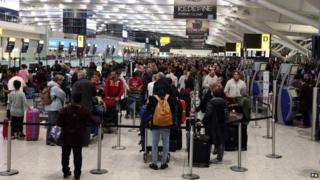 An independent inquiry is to be set up to investigate the air traffic control computer failure which disrupted flights at UK airports last week.
National Air Traffic Services (Nats) has blamed a software glitch at its centre at Swanwick in Hampshire.
The inquiry will look at Nats' handling of the episode and whether lessons were learned from previous failures.
Later, Transport Secretary Patrick McLoughlin will be questioned by MPs about the incident.
The UK's Civil Aviation Authority (CAA) says it will appoint an independent chair to lead the inquiry, which will take evidence from experts on information technology and air traffic control.
The computer failure caused huge problems at airports around the country on Friday - including delays at Heathrow and Gatwick, where departing flights were grounded for a time. Other UK airports reported knock-on effects.
Heathrow Airport also cancelled about 40 flights on Saturday morning before normal services resumed.
It comes a year after a telephone failure at the Hampshire control room which also caused flights to be disrupted - one of a number of technical hitches to hit the partly-privatised Nats since the Swanwick centre opened in 2002.
The transport secretary said the system failure was "unacceptable" and asked for a full explanation from Nats about what went wrong.
The BBC's political correspondent Robin Brant said Mr McLoughlin could expect to have a preliminary report from Nats on his desk on Monday morning.
He will face questions from MPs on the transport select committee on Monday afternoon.
'Dreadful' disruption
On Sunday, Business Secretary Vince Cable accused Nats of "skimping on large-scale investment" and being "penny wise and pound foolish".
But Nats chief executive Richard Deakin rejected the criticism.
He told BBC Radio 4's Today programme Friday's issue was not "down to a lack of funding" - rather it was "one error, or limitation, in four million lines of code".
"Over the next five years we are spending around £575m on new systems," he said. "We have the funding that we need to deliver the service that we require."
He insisted the public had not been put at risk as there were "processes and procedures in place to make sure that even if there are glitches, everything remains safe".
Labour MP Paul Flynn has called for Mr Deakin to be docked bonuses in his salary because of the "dreadful" disruption.
Mr Deakin told the BBC he expected his pay to be affected by the incident but stressed that Nats' performance over the year had been good.
"I haven't done the calculations on that yet, my time since Friday has been very much focused on getting everything back up and running," he said.
The chairwoman of the transport select committee, Louise Ellman, said it was "vital that we establish what happened".
She said her committee would also call Nats and the Civil Aviation Authority to give evidence.