Police cuts 'will endanger public', says Met commissioner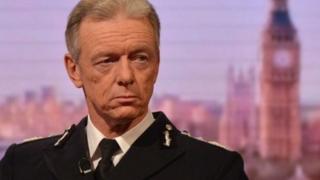 Public safety will be at risk unless radical measures are taken to deal with funding cuts, Britain's most senior policeman has warned.
Met Police commissioner Sir Bernard Hogan-Howe said forces were facing "years of more austerity and shrinking budgets", whoever is in power.
He said police forces in England and Wales should merge and share resources with other emergency services.
The prime minister's spokesman said the current structure was the right one.
Writing in the Guardian, the Scotland Yard commissioner said that unless police and other public services across England and Wales "act fast" and with "courage" to implement far-reaching reforms, the cuts would endanger public safety.
He said local authorities, criminal justice agencies and the police should share support services - and all but core policing functions should be opened up to competition.
He said in urban areas like London police should link more closely with ambulance, fire and other services.
Analysis
By Danny Shaw, home affairs correspondent
In the first half of Parliament, policing was dominated by the issue of cuts: How would the service cope with having its central government funding reduced by a fifth?
The response from most forces was to chop the number of officers and staff.
The question of cuts is back on the agenda, as forces face a further squeeze to the end of the decade.
There is growing support for the restructuring option favoured by Sir Bernard Hogan-Howe. Sir Hugh Orde, the Association of Chief Police Officers' president, and Irene Curtis of the Police Superintendents Association are among a number of policing leaders who see the virtue in fewer, bigger forces.
Labour is committed to some kind of re-organisation, but is proceeding cautiously, perhaps scarred by the previous doomed attempt in 2006.
The Conservatives remain opposed, put off by worries that police forces' local identity and accountability will be threatened.
But tough spending decisions after the next election will keep the issue centre stage.
Sir Bernard also revisited the idea of police force mergers as a way to save money and develop a "common mission" against cyber crime.
"In England and Wales there are 43 forces. The smallest has 600 officers, the largest, the Met, 32,000. They are based on 1974 local government boundaries and in many cases emergency services are now the only county-wide services," he said.
"Do criminals respect these county boundaries? No, they don't. They seek markets with high population densities to sell drugs and steal property. They pass local and national borders with ease.
"We need to be as flexible and aggressive as they are. We do not need the boundaries that currently mark out the territory of chief constables or police and crime commissioners."
Prime Minister David Cameron's spokesman said there were issues in terms of efficiencies and greater cooperation but the current set-up was the right approach "given the importance of retaining local accountability".
The prime minister believes there is "more that can be done" on police forces working together and sharing technology and procurement services, the spokesman added.
Merger in Scotland
BBC Scotland's Reevel Alderson
Scotland's eight police forces merged into one service in April 2013.
Police Scotland also absorbed the specialist officers in the Scottish Crime and Drugs Enforcement Agency in a move designed both to save money and improve the service offered around the country.
Saving money is not easy - although the Scottish government said the merger would lead to savings of £1.7bn over 15 years.
Read more from Reevel Alderson
Last week, the chief constable of Lincolnshire Police said his force could be "unviable" in three years if it had to make further cuts.
Chief Constable Neil Rhodes outlined his concerns in a letter to the home secretary. He said cuts to officer numbers, in response to a reported £10.4m budget shortfall, would mean the force would be unable to police effectively.